Colorado Ski Passes: Which one is right for you?
A breakdown of ski passes in Colorado and around the world
Updated 2/27/19 for 2019-2020 ski season
Ski the World
One season pass at a time
Over the last few years, ski passes have become incredibly popular. With a single pass, skiers can now ski year-round at the world's best ski resorts. However, all this choice has made it a little more difficult to commit to one. If this is you, no problem. We did some investigating with our friends at Ski Butlers, and here's what we found out:

When deciding on whether to buy a daily lift ticket or purchase one of the many ski pass options, there are a few things to consider:

The number of days you plan on skiing at the resort (or resorts) of your choice.
The time of year as certain peak times -- Christmas, President's Day, Martin Luther King, Jr. Day, Easter -- can be "blacked out" and excluded from the passes access for the weekend.
How many people you are bringing on your vacation. It is just you or your entire family? Are you under 18? There may be a discount. Are you in college? There are many factors that may qualify you for discounts on your season pass.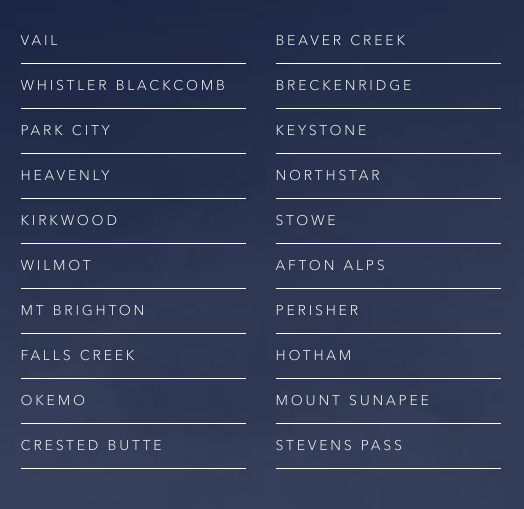 The Epic Pass
The Grandaddy of them all
Vail Resorts has become a massive global player in the ski scene, and its flagship season pass--the Epic Pass--has traditionally been one of the most popular options. From its humble roots as the five-mountain pass (which granted skiers unlimited access to A-basin, Breck, and Keystone and limited days at Vail and Beaver Creek), it's now grown to an international pass with unlimited, unrestricted access to 20 resorts. As its name suggests, this pass is truly epic. In addition to the 20 destinations, it offers access to dozens of other resorts in the U.S., Canada, Europe, Japan, and Australia. For a complete look at all 67 resorts on the pass, click here. Check out the 20 resorts on the 2019-2020 pass in the graphic to the right, courtesy of Epic Pass.

The adult price for 2019 is $939. The average price of a Vail Resort Mountains lift ticket (keep in mind they all differ) is between $150 and $200 per day after taxes and fees, so this is a great option should you plan on taking your vacation during the holiday periods when daily prices surge and blackout dates are in full effect. After less than one week of skiing, you've paid it off. 2019 Update: Arapahoe Basin has confirmed it will not be a part of the 2019-2020 pass, citing parking congestion issues.
New for 2019-2020: Falls Creek Alpine Resort and Hotham Alpine Resort in Victoria Creek, Australia, are now included on the Epic Pass for the 2018-2019 season (Australia's ski season begins in June 2019) much to the delight of never-summer enthusiasts. Sun Valley Resort (Idaho) and Snowbasin Resort (Utah) are now also a part of the Epic, Local, 7-Day, and 4-Day passes, as is Japan's Rusutsu Resort, offering 5 consecutive days of skiing to pass holders. Another notable addition is the expansion of access to European resorts. In the 2019-2020 season, Epic Pass holders will get 7 consecutive days at Les 3 Vallees in France and Skirama Dolomiti Adamello Brenta in Italy. This means the pass now offers 26 days of skiing at some of Europe's most famous resorts.

The Epic Local Pass: The Epic Local Pass is about $240 cheaper ($699 in 2019) than the Epic Pass, but still provides unlimited access to 10 resorts: Breckenridge, Keystone, and Crested Butte in Colorado; Wilmot in Wisconsin; Mt. Brighton in Michigan; Afton Alps in Minnesota; Mount Sunapee in New Hampshire; and Stevens Pass in Washington. The key difference is there are several blackout dates: typically Thanksgiving (often opening day), Christmas, President's Day week, Martin Luther King Jr. and Easter week, based on when Easter falls. If you are not going to travel during those peak times, this would be a great pass. You only need to ski or snowboard a few days out of the year to justify the purchase.
More Epic Options
Epic Day Pass: Get a single day at resorts on the Epic Pass for just $125.
Epic 7-Day Pass: Get 7 unrestricted days at more than 20 resorts around the world, including Whistler Blackcomb, Telluride, Northstar, Stowe, and Okemo.
Epic 4-Day Pass: Same mountains as above, but with only 4 unrestricted days.
Tahoe Local Pass: This is an excellent option for Tahoe locals and those nearby. It includes unrestricted access to Heavenly, Kirkwood, and Northstar, as well as 5 holiday-restricted days at Vail, Breck, Beaver Creek, Keystone, and Park City.
Tahoe Value Pass: Even better for locals, this pass offers the same unlimited access to Heavenly, Kirkwood, and Northstar, without the access to Colorado and Utah resorts.
Epic Perks
All of the above passes come with some pretty amazing benefits, in addition to access to the world's top resorts. A few of the most impressive include:

Ski with a friend (SWAF) tickets, which include discounts when friends and family purchase tickets at the window.
Resort Charge, through which you can use your pass like a debit card.
Epicmix, an app that lets you see your current location on the mountain, plan routes and see lift lines, compete in challenges with others on the mountain, and more.
Auto Renew, which lets you lock in the lowest price for next year's passes.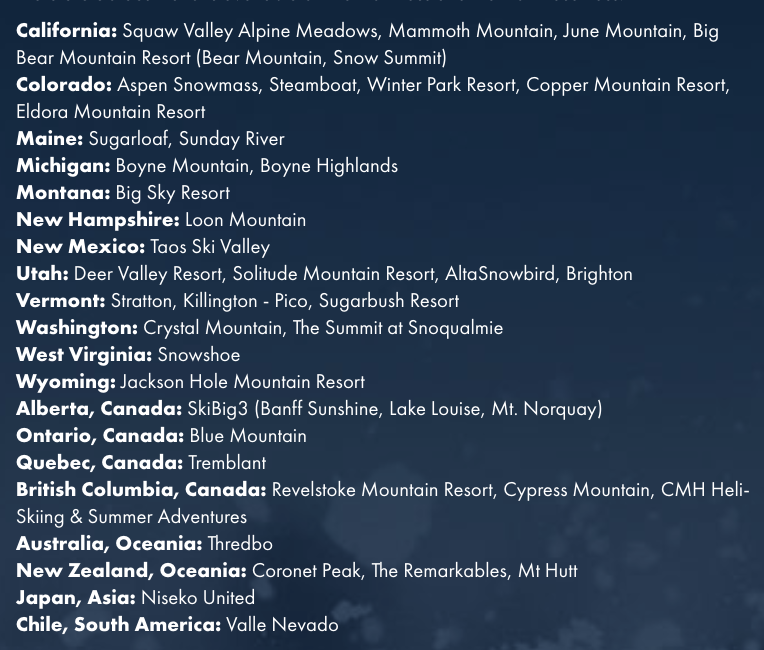 The Ikon Pass
A formidable foe for the Epic Pass
The Ikon Pass is the new kid on the block, but has quickly established itself as the foil to Epic. In 2017, Alterra's parent companies went on a buying spree, and several resorts later, Alterra Mountain Company had an amazing array of resorts to offer all under one pass. Thus, the Ikon Pass was born.

With the Ikon Pass, users get access to 38 resorts around the world (listed on the right thanks to Ikon's FAQ page). The 2019-2020 price is $949 for first-time buyers and $919 for renewers, and the pass goes on sale Tuesday, March 5. All mountains on the Ikon Pass come without blackout dates, unlimited access to 14 resorts, and up to 7 days at 23 more destinations.
Ikon Base Pass: Similar to the Epic Local Pass, the Ikon Base Pass offers restricted access to certain mountains, but unlimited, unrestricted access to 8 mountains: Winter Park, Copper, and Eldora in Colorado, Snowshoe Mountain Resort in West Virginia, Crystal Mountain in Washington, Tremblant in Quebec, Blue Mountain in Pennsylvania, and Big Bear in California.

However, it's the extra resorts that really make this pass shine. While there may be blackout dates or a limited number of days, it provides access to about 30 more resorts spanning Canada, the U.S., New Zealand, Asia, and South America. For the 2019-2020 season, the base pass costs $649 for first-time purchasers and $619 for renewers.
The Mountain Collective Ski Pass
Mountain Collective: Another newer option is the Mountain Collective. This is a collective partnership between 17 resorts around the world. Typically the pass costs around $469 for adults and $99 for kids 12 and under. This pass gets you two days at each of the 17 resorts for a total of 34 days of skiing. Adding to its appeal, once you've used your two days, you'll get 50% off single-day lift tickets at all 17 participating resorts. This is good if you like to travel and ski multiple resorts, checking some of the world's finest mountains of your list.

The 17 mountains for 2019-2020 include: Alta, Aspen/Snowmass, Banff/Sunshine, Big Sky, Coronet Peak + The Remarkables, Jackson Hole, Lake Louise, Mammoth, Revelstoke, Snowbasin, Snowbird, Squaw Valley/Alpine Meadows, Sugarbush, Sun Valley, Taos, Thredbo, and Niseko United.
Individual Colorado Mountain Passes
If you're a local and would rather get the most out of the mountain just down the street from you, there are of course single-mountain passes that grant you unlimited access to that particular mountain. Below is a list of all Colorado local adult full-season passes and their prices. Keep in mind there are often various prices for young adults, adults, teens, and children, so be sure to check the mountain's website. Until each resort posts their 2019-2020 prices, we'll display last year's price.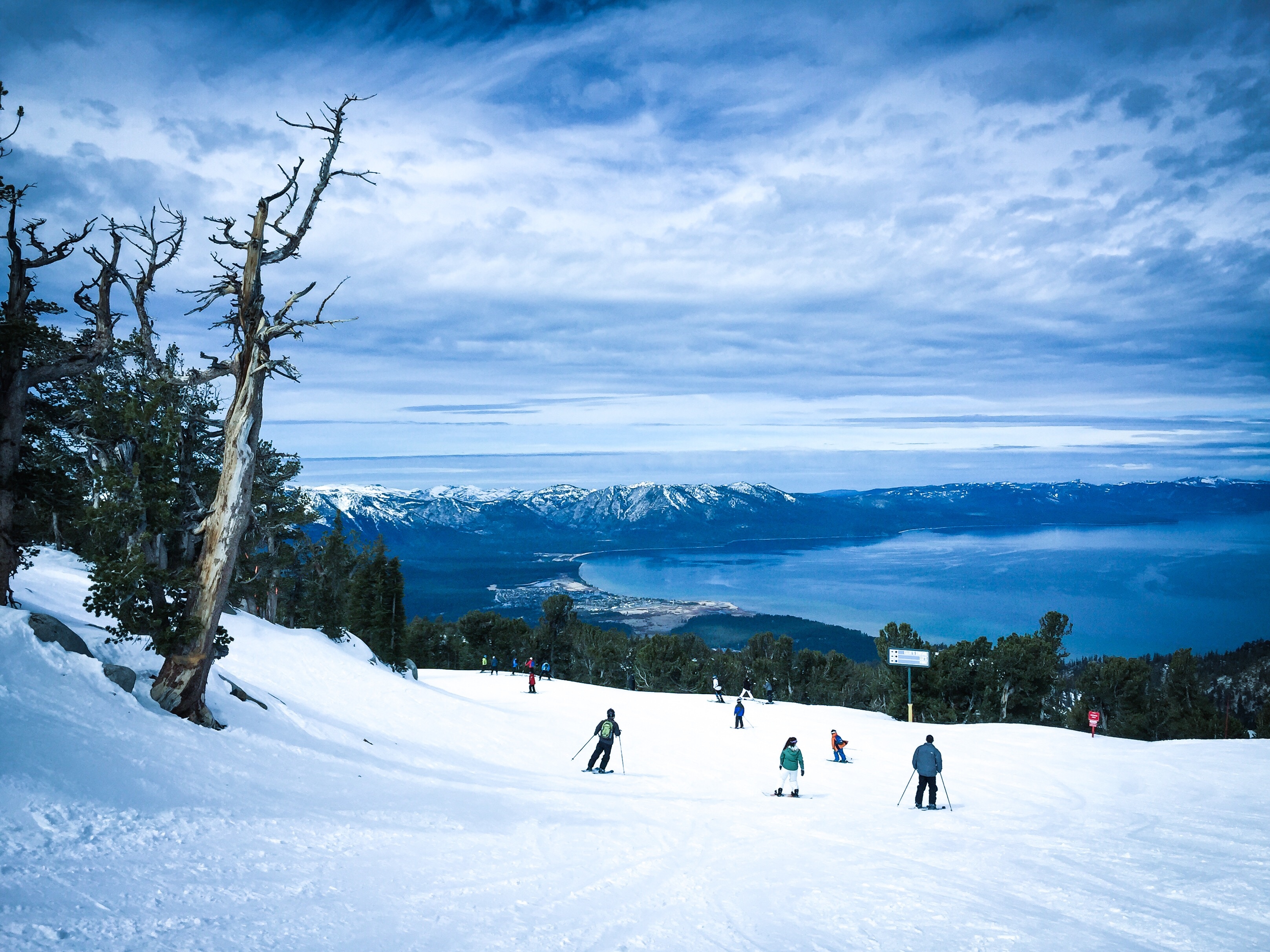 Arapahoe Basin: $399
Aspen (Snowmass, Aspen Mountain, Aspen Highlands, and Buttermilk): $2,284
Ski Cooper (not to be confused with Copper Mountain): $649 (includes 3 days at Purgatory and Monarch each)
Copper: $649
Echo (Idaho Springs): $249
Eldora (Boulder): $599
Hesperus (Durango): $299
Howelsen (Steamboat Springs): $215
Loveland: $459
Monarch (Salida): $499
Powderhorn (Mesa/Western Slope): $549
Purgatory (Silverton): $999
Steamboat: Available on Ikon Pass
Sunlight (Glenwood Springs): $559
Telluride: $2,100
Winter Park: $629
Wolf Creek: $979
Which ski pass is right for you?
It all depends on how many days of skiing you hope to get in, if you're okay with blackout dates and restrictions, your age, and which mountains you're partial to. But whichever you choose, we're sure we'll see you on the slopes somewhere out there.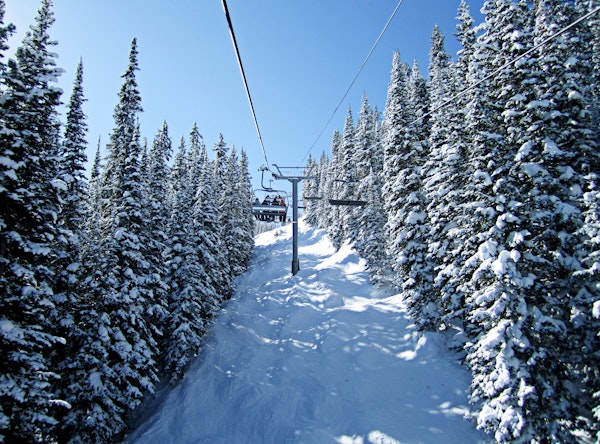 Beaver Creek vs Vail
Find out the subtle differences between two of Colorado's most luxurious ski resorts:
Beaver Creek and Vail
.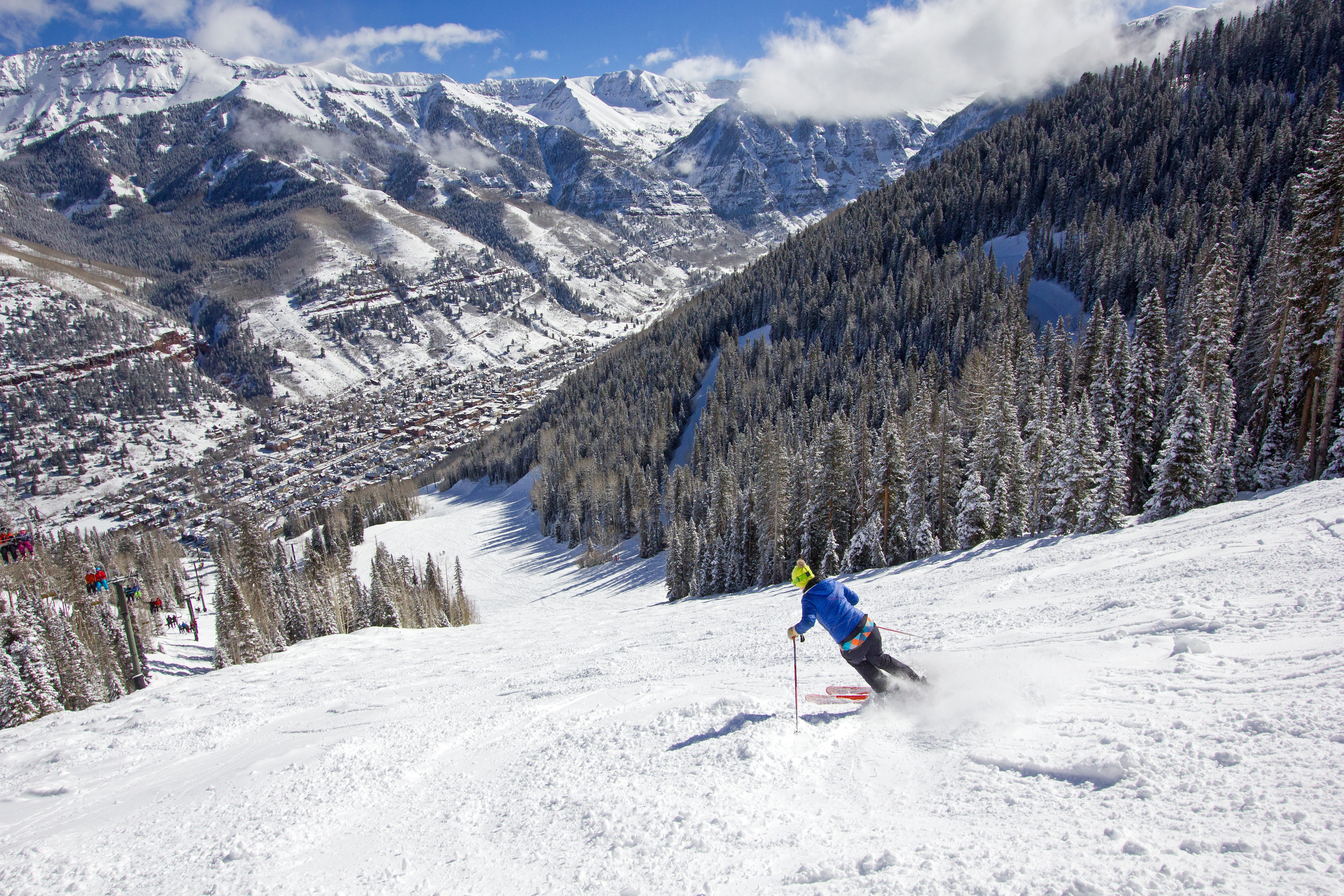 Best Spring Skiing in Colorado
Top 15 Family Activities in Breckenridge
Heading to Breckenridge with the whole family? Here are
15 activities
sure to please everyone, from grandkids to grandparents.
Loading...