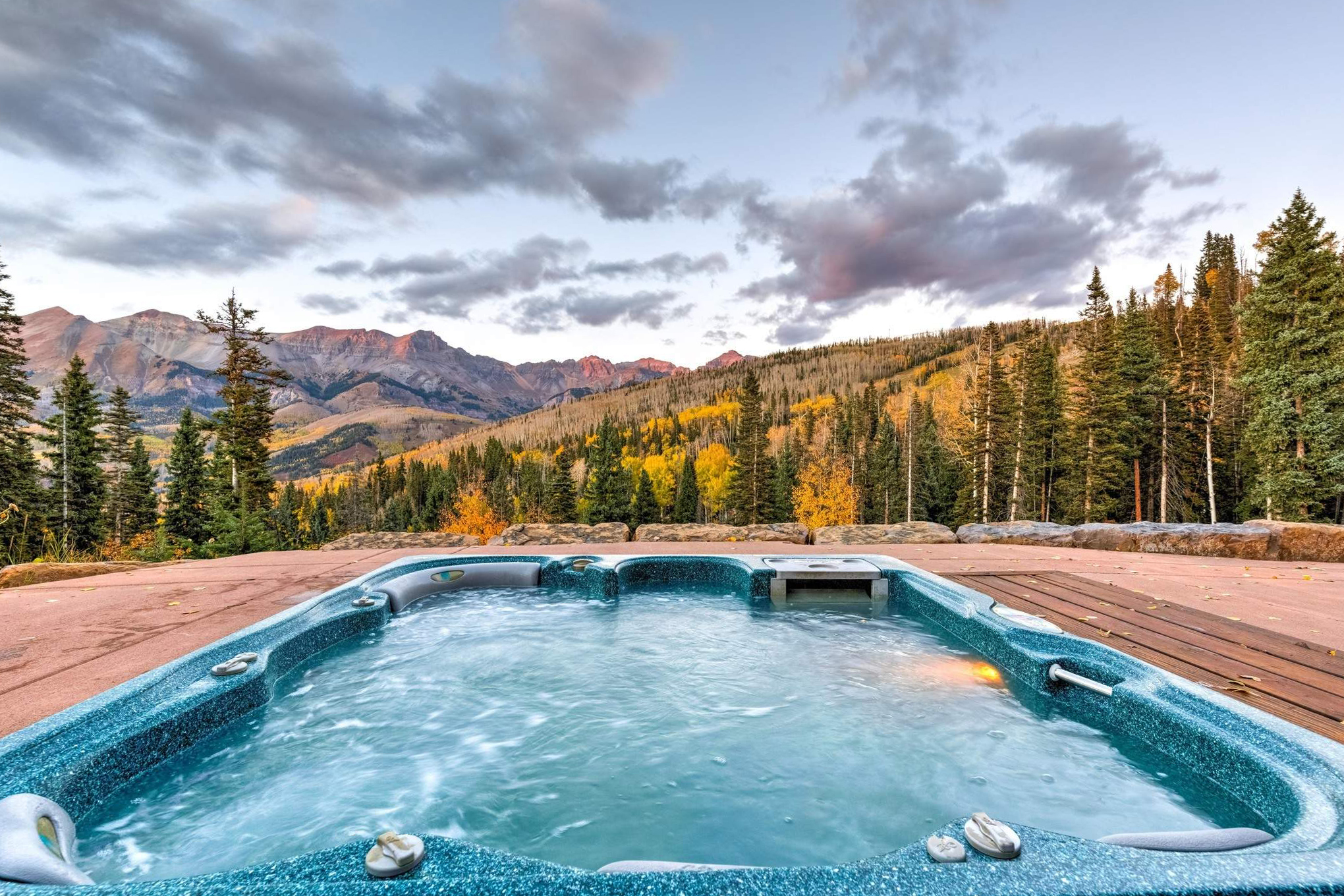 10 Hot Tubs for Your Travel Bucket List
Our luxury vacation homes in destinations across the country have some amazing amenities. From high-altitude oxygen pumping systems to multi-story glass walls, we've seen it all. However, even amid all these one-of-a-kind features, there's still one that remains a steadfast guest favorite: the hot tub.

If you're looking for a winter warm-up this season, check out our list of the 10 best hot tubs in our portfolio of beautiful vacation homes. These range from infinity pools set high above the hills of Santa Barbara to underground grottos fed by natural hot springs, and everything in between. So take a look through, and let the hot tubs be your guide as you choose where to get away this winter.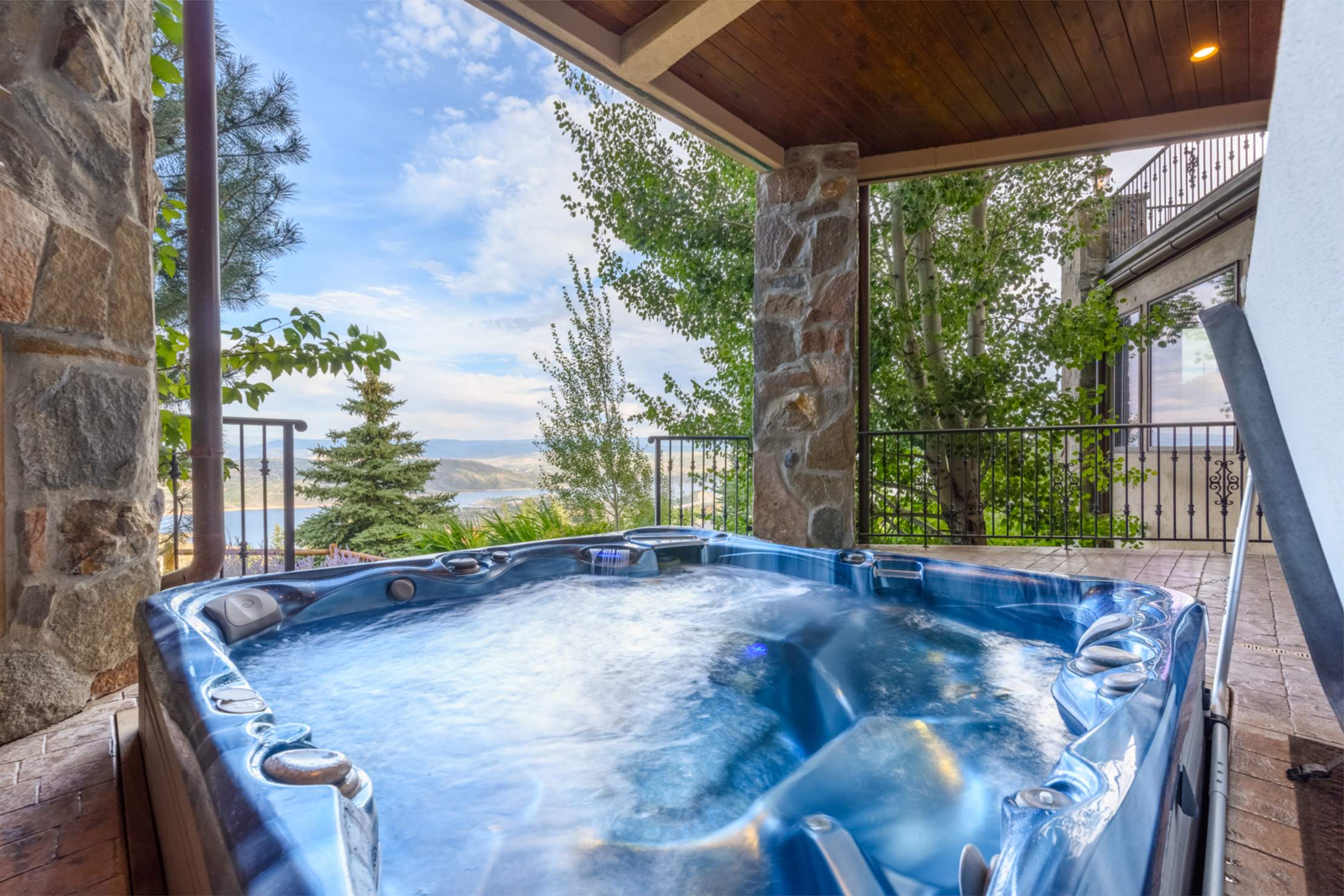 Not only is Casi Cielo one of the finest ski-in, ski-out homes in Deer Valley, Utah, it also has perhaps one of the best hot tubs, too. Perched at the edge of a hill on the deck overlooking the entire Jordanelle Valley, this hot tub has enough room for your whole group, and the views you'd expect. Inside the home you'll find grand architecture and design around every turn, and with seven bedrooms, there's enough space to accommodate up to 16 guests.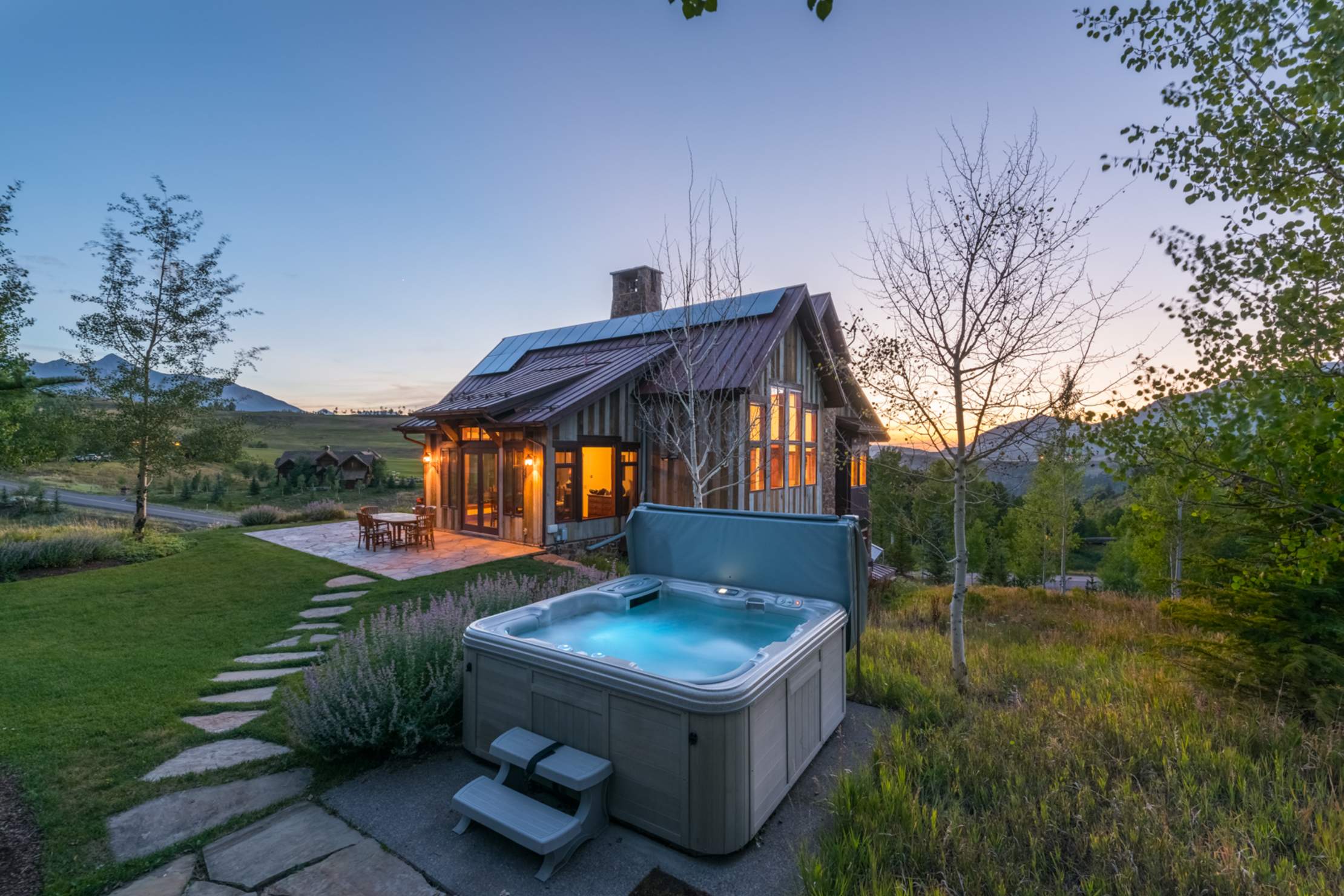 This is how to have a quiet getaway. Located in a peaceful corner of Telluride's Mountain Village, the hot tub is set atop rolling hills surrounded by the jagged peaks of the San Juans, creating a true oasis. Without any neighbors or light pollution, stargazing from this hot tub is as good as it gets. When you're done for the evening, head inside the home, which is just as stunning as the hot tub's views. See this home's full rental listing here.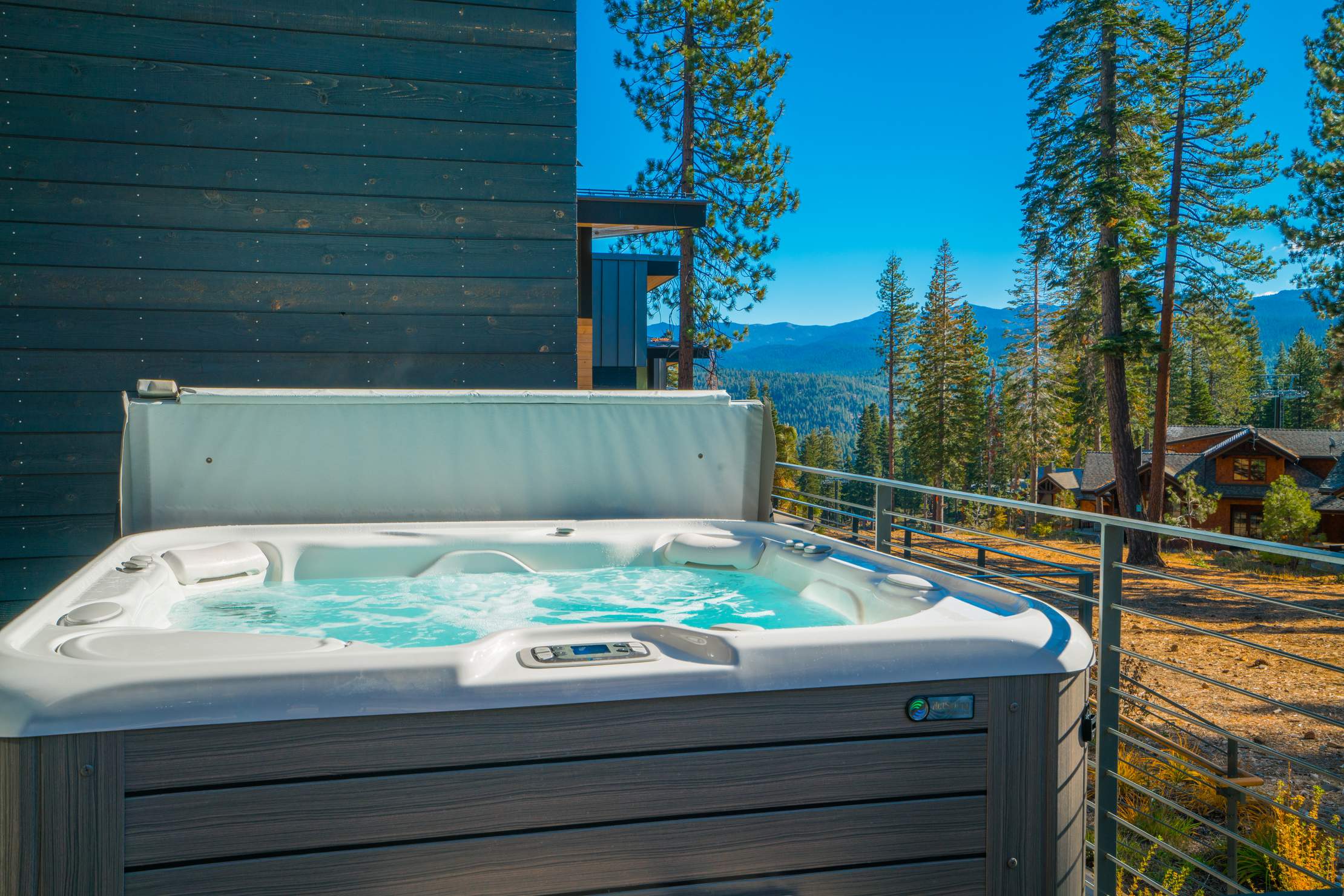 North Lake Tahoe's Stella Nova has garnered rave reviews for its unbeatable ski-in, ski-out access, but that shouldn't overshadow its perfectly placed hot tub. Set on the back deck just feet from a blue run, you can hop in seconds after finishing for the day. Watch as the skiers whoosh by, and look out over the entire mountain range beyond. It's the perfect way to end a day of skiing on one of North Lake Tahoe's best ski resorts.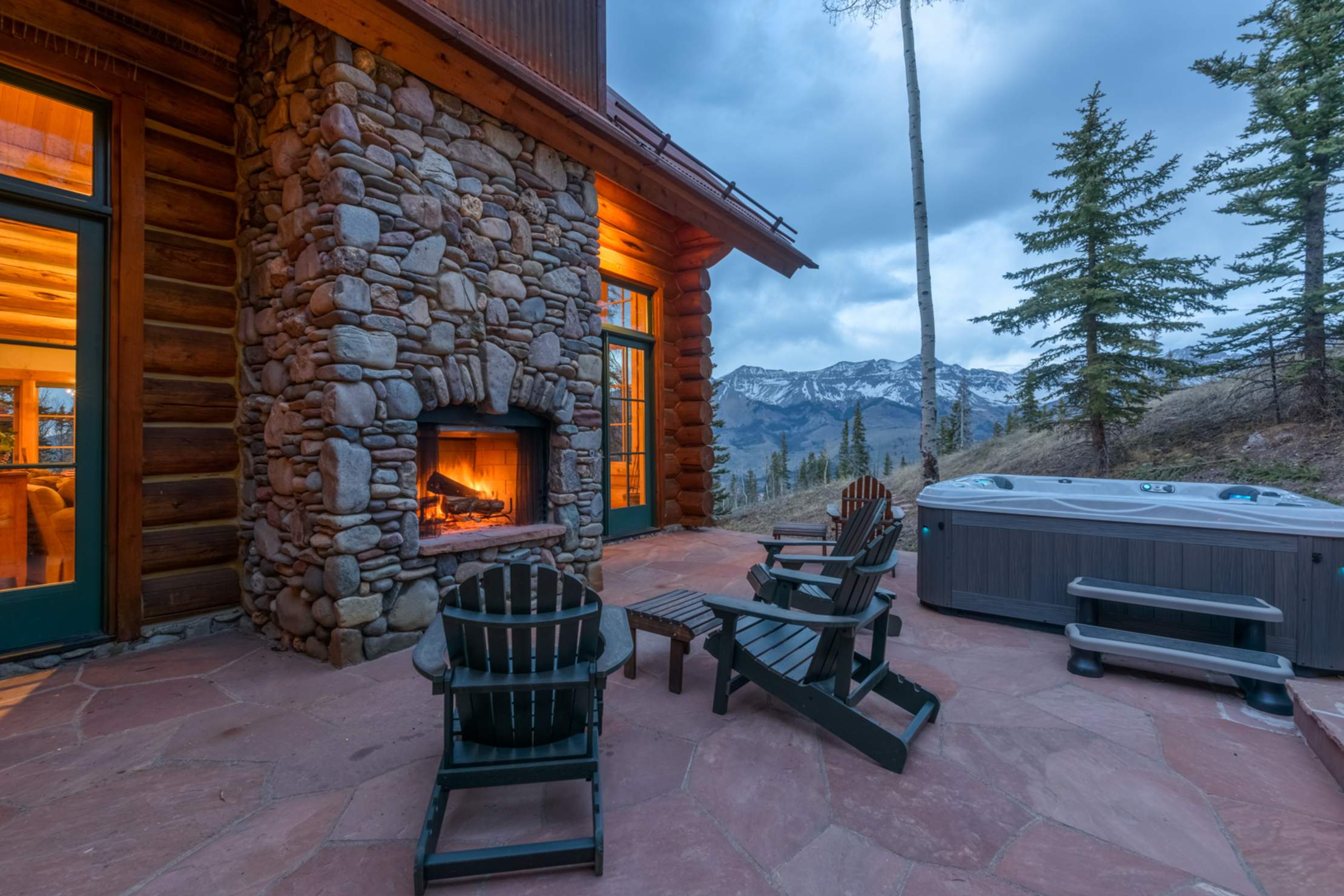 After a day of skiing, exploring, or festival-going, what sounds better: Relaxing by the fire, or heading into the hot tub? At Winterfell, you won't have to choose. Slide into the hot tub, take in the views, and let the light from the fireplace flicker across the porch. It's a truly unique way to experience Telluride. Click here to see all photos of this immaculate home or check for availability.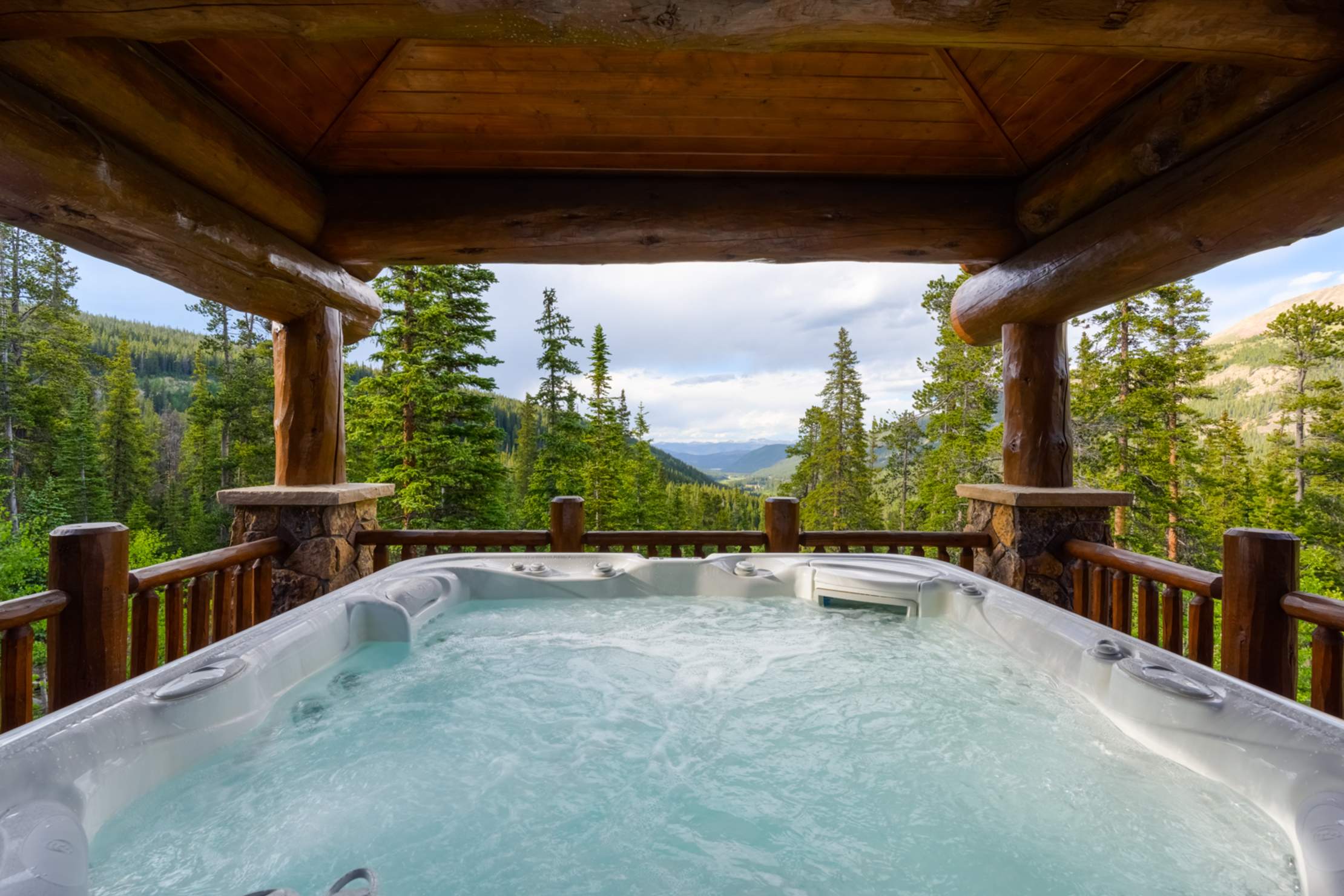 Mountain Kingdom has everything you need in a quiet Breckenridge mountain retreat. It's set at the edge of a forest on a hill that overlooks a valley with mountain peaks silhouetted in the distance. A large deck has ample seating for your entire group. The luxury log cabin architecture is idyllic. And the private outdoor hot tub is at the center of it all. Click here to see why so many guests rave about Mountain Kingdom and its stellar hot tub.
At Mont Vista Chateaux, you'll get to experience the French Alps right here in Breckenridge, Colorado. From the hot tub, located on the back deck, you'll have a direct view of the slopes of the ski resort. Stare out over the pines and relax in good company after exploring town or the mountains. Click here for more photos of this stunning home.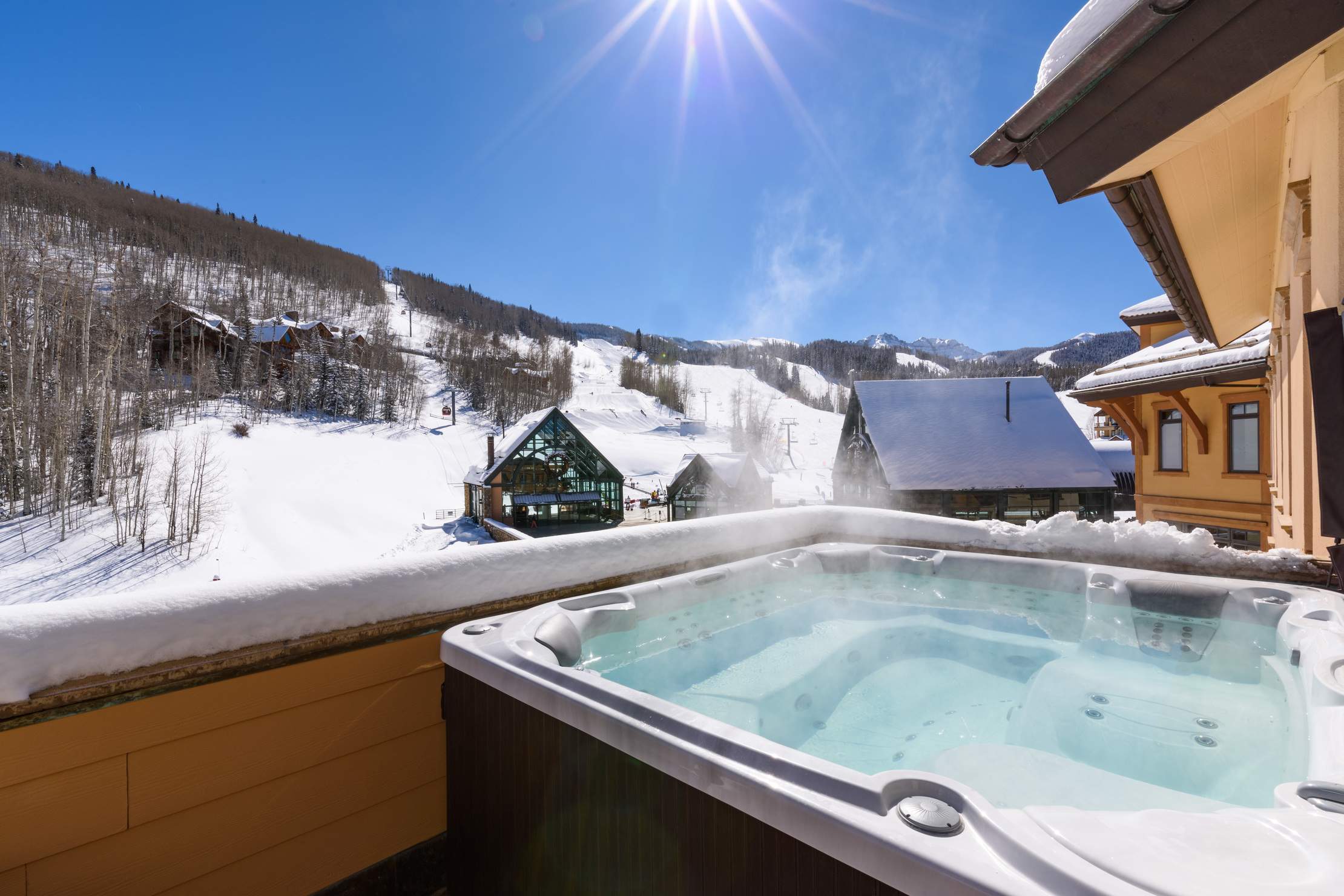 With a private hot tub in the cozy Mountain Village community of Telluride, you'll have views directly to the slopes from the swirling waters of your deckside spa in Heritage Crossing Penthouse. There's a communal, resort feel, but the wall and mountain-oriented back deck give you the privacy you're looking for in a Telluride vacation rental.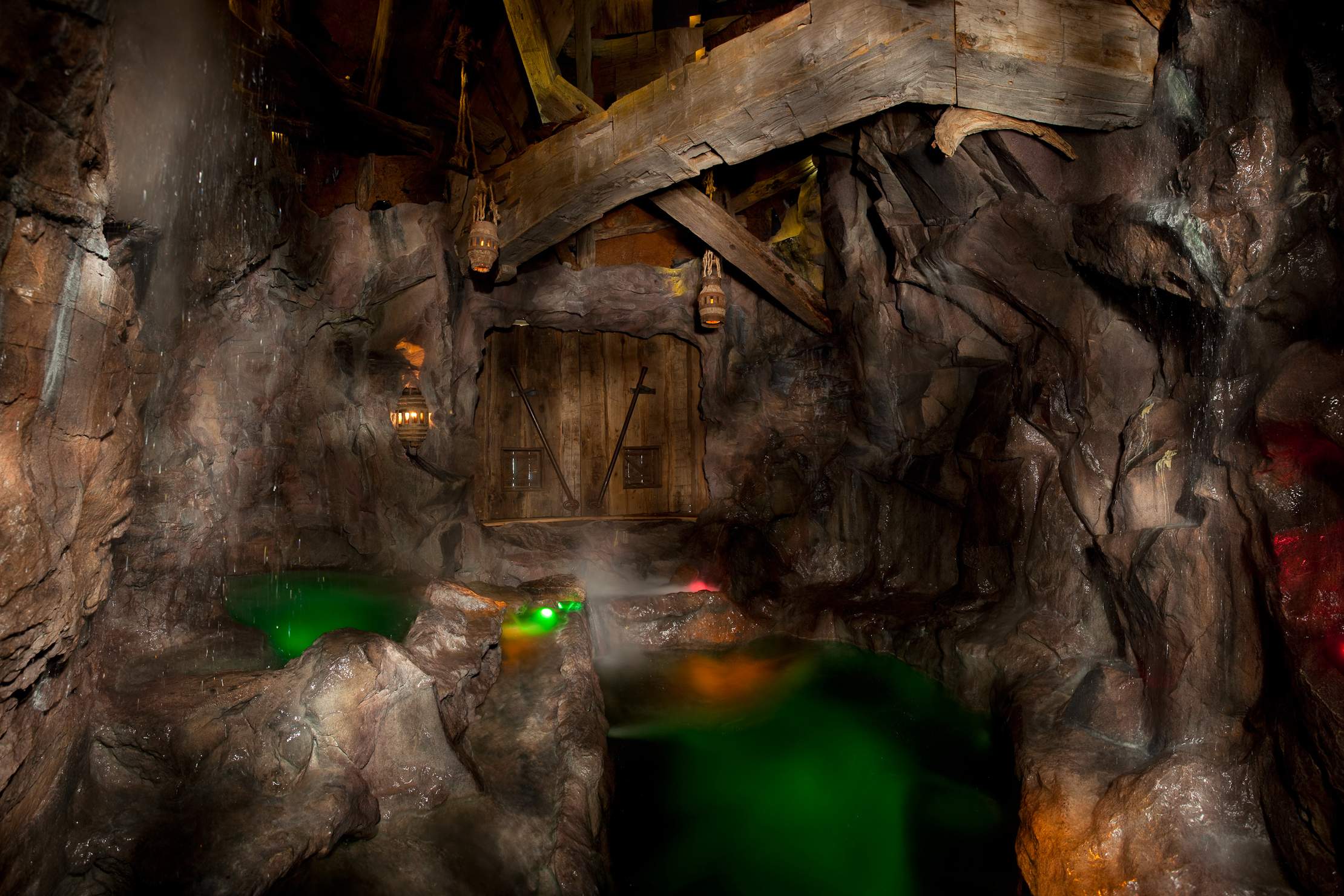 Head down below this Telluride estate for an unforgettable surprise. Here, in a manmade grotto beneath the home, sits an alluring hot tub fed completely by a natural hot spring and lit green by underwater lights. It's perhaps the most unique way to warm up after a hard day of skiing or riding in any of our homes, and ensures an experience you and your family or friends will never forget. Once you've seen this home, though, you'll see that this is perfectly fitting. Soak in an antique wooden tub, light a fire in the outdoor pit, try a wine in your private cellar, or watch a movie in your own home theater. Click here to take a full tour of this incredible mountain estate.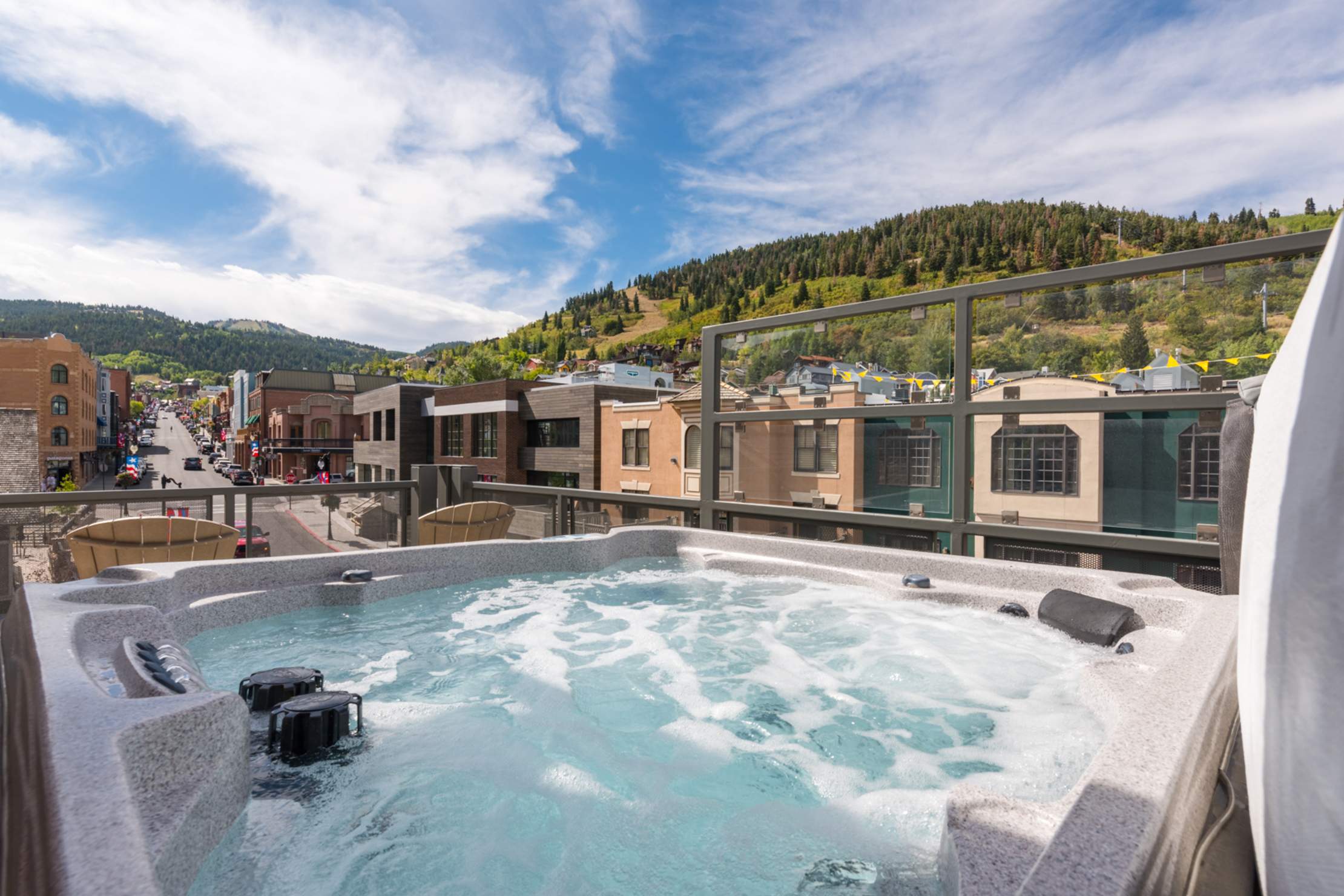 If you're going to stay at a luxury vacation rental in downtown Park City, Utah, make sure to do it right. At Azure Vista at Skystrada, you'll have your own private hot tub set on a balcony that overlooks the bustling town below. Perfect for winter or summer, this condo has a gorgeous mountain modern design. For more photos and booking information, check out this luxury rental's listing here.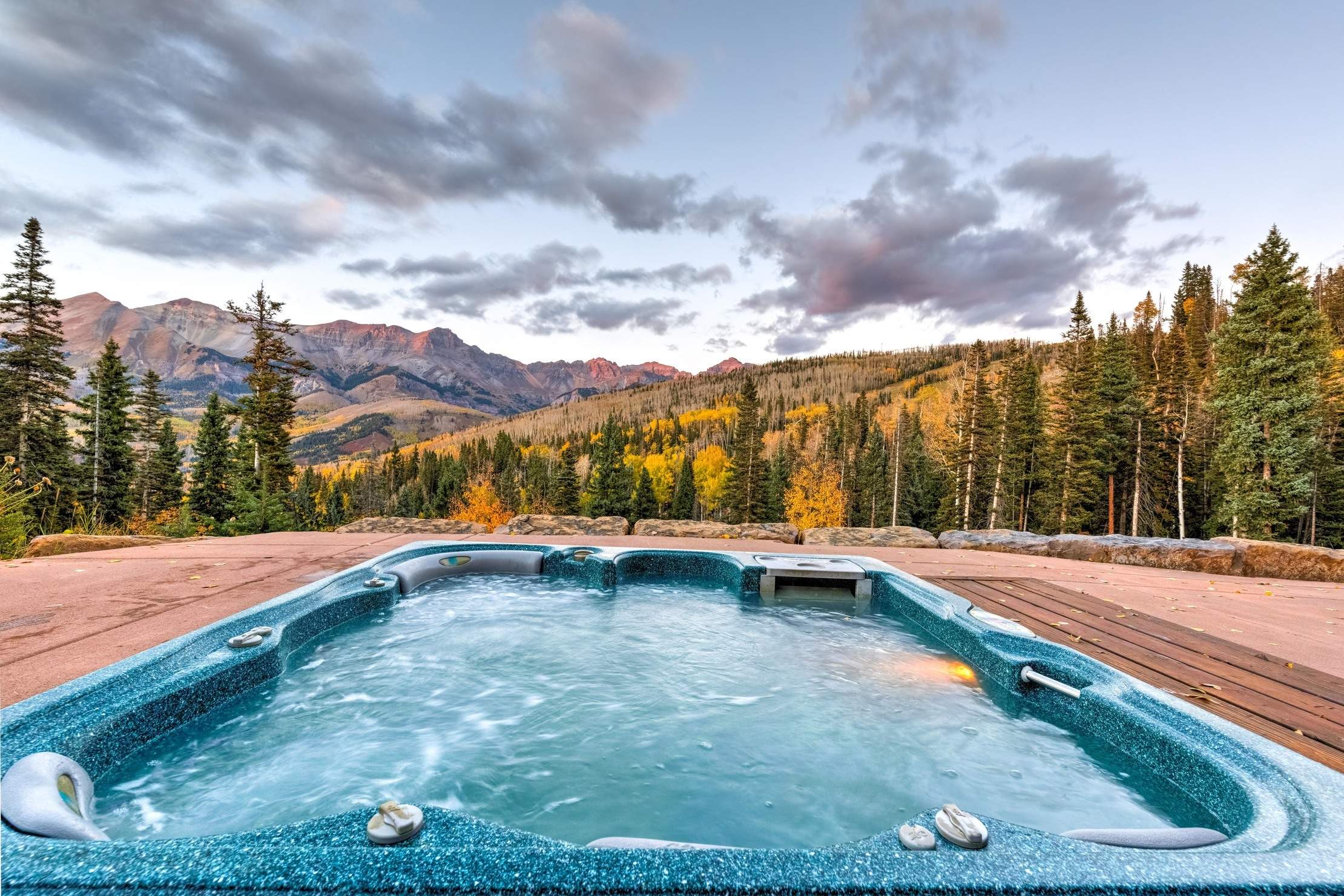 Unbeatable Telluride views and plenty of space to soak ensure Dancing Bear's hot tub a place on our list. Eight people can comfortably fit inside with a range of jetted seats and reclined bench options. But what really steals the show here is the view: The rugged peaks and ridges of the southern Colorado Rockies in the distance, and the gently rolling hills and scattered pine and aspen trees just before you. After a day of world-class skiing, this is the ultimate way to rejuvenate. This home also features an amazing billiards room with pool and shuffleboard, ski-in, ski-out access to Telluride Resort, an indoor bar, and several decks with views as good as from the hot tub.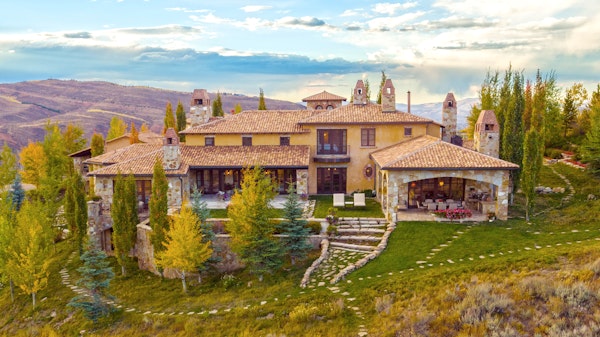 17 Extraordinary Vacation Rentals Perfect for Family Reunions
Some of our beautiful vacation homes have ample space for large gatherings, including family reunions and corporate getaways. Here's a
quick list
of some of our top homes with the most space for guests.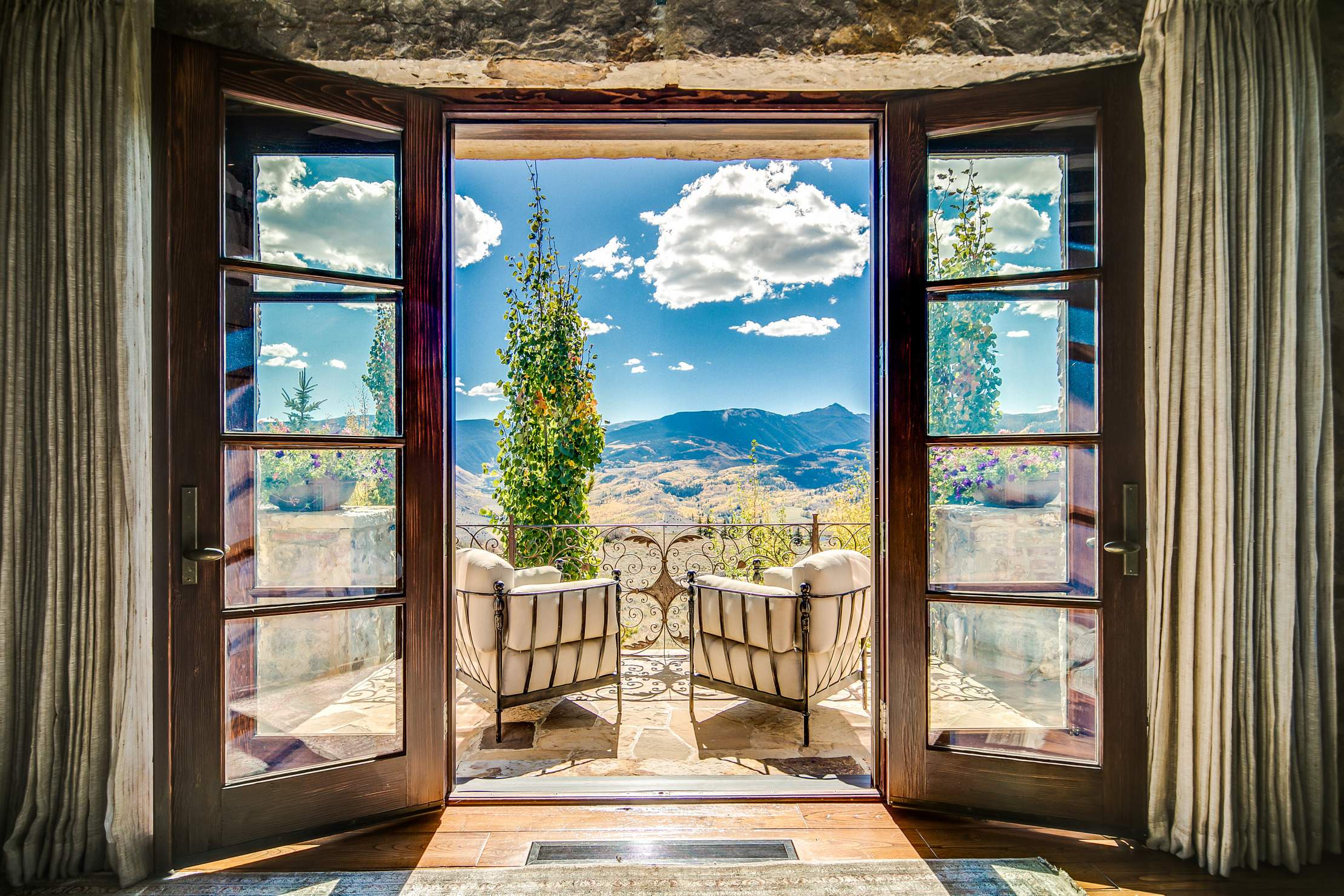 15 Vacation Rentals with Awe-Inspiring Views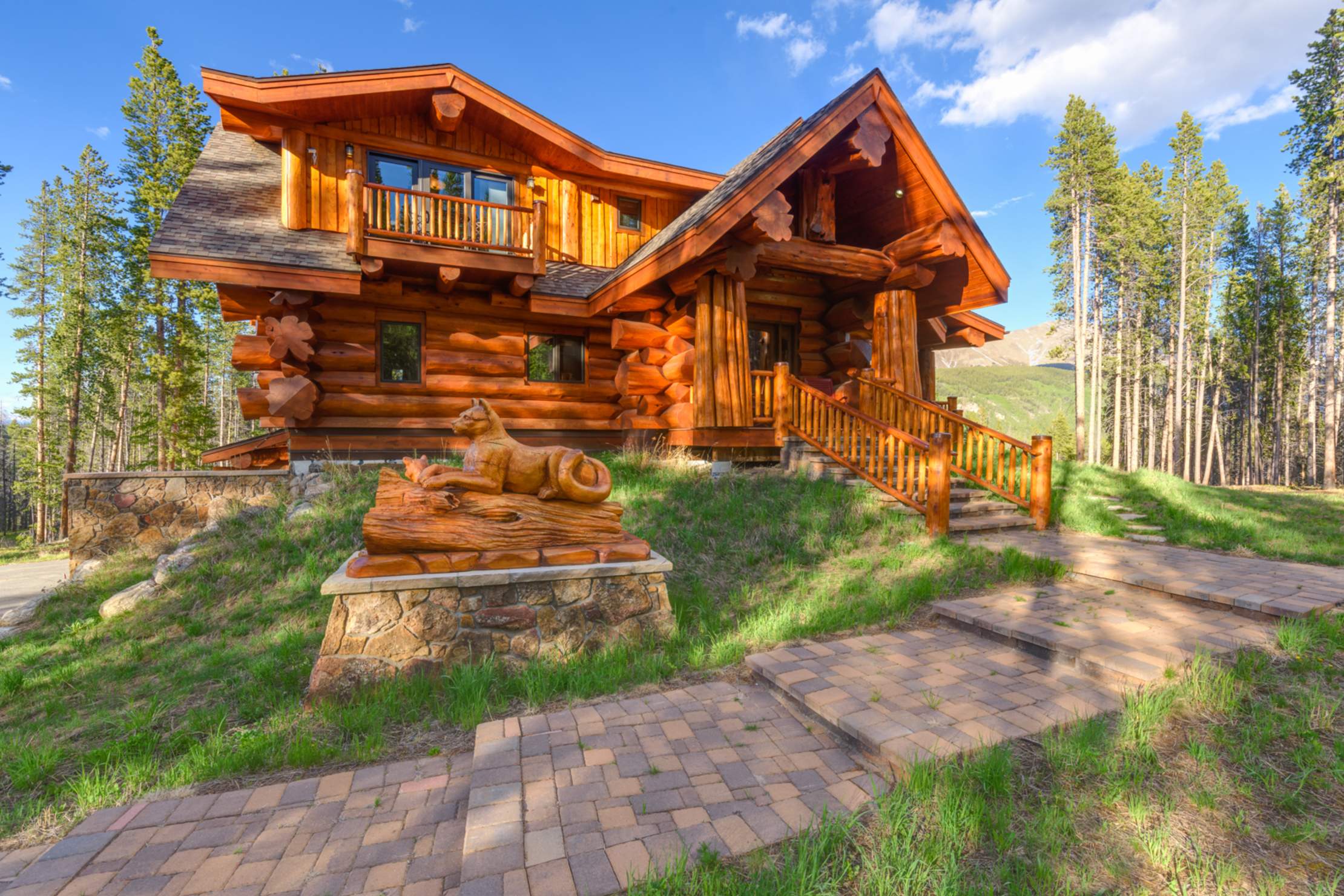 Colorado's 15 Best Luxury Log Cabin Rentals
When you want the luxury of a high-end vacation rental but the coziness and comfort of a traditional log cabin, you don't have to choose between the two. Check out our
top 15 luxury log cabins in Colorado
, and get the fine hotel experience in the comfort of your own rustic cabin.
Loading...