Lake Tahoe in the Summer
Summers in Tahoe are epic. Think long sun-soaked afternoons. Golden-sanded beaches. Pristine shorelines. In the distance snow-capped peaks that hug the circumference of the lake. Shimmering lake waters and awe-inspiring views will take your breath away, day-in and day-out.

If you're heading to Lake Tahoe in the summertime, a Utopian mecca awaits. There's so much to do all over the entire area. It's a time of the year when you can enjoy the resplendent lake waters and take in the intoxicating crisp mountain air. You can fish. Hike. Mountain bike. Paddleboard. Parasail. Go boating. Take a cruise. Golf. See historic sites. And so much more.

There's a reason why summers in Lake Tahoe is in one of the most sought-after destinations in the world. There's something for everyone here. No matter what you're into. Here, you'll find it. Whether it's romantic outings with a loved one. Parties on the beach with friends. Or hiking with the entire family.

However, if you're heading to Tahoe in the summer, you're likely looking to plan your itinerary. What thing can do you in Tahoe in the summer? Specifically? There are likely hundreds, if not thousands of things to do. But amidst all the potential possibilities, there are 10 things that stand out from the rest.
Hiking in Lake Tahoe in the Summer
Hiking is a great way to connect with Mother Nature. From epic day-long trips to quick strolls and jaunts, Tahoe has it all. The Lake Tahoe basin is surrounded by mountains around all sides. They hug and straddle the resplendent lake. No matter what direction you travel, you'll be met with spellbinding views that will take your breath away.

If you're heading to Lake Tahoe in the summer, you should definitely consider hiking some of its trails. From granite cliffs to hillsides blanketed with Fir and Pine trees. There is unmatched beauty here. It allows for reflection. For deep thought. For recharging your batteries. An exhilarating way to get inspired and motivated for the next chapter in life.

There are loads of epic hikes in Lake Tahoe. Not just challenging ones. You'll also find hikes that are perfect for the entire family. Not only can you hike the circumference of the lake and its surrounding hillsides, but also towards smaller finger lakes like Eagle Lake, Lake Kirkwood, Lily Pond Lake, Lower Echo Lake, Spooner Lake and more.

Check out our Lake Tahoe Hiking & Trails guide here.
Fishing in Lake Tahoe in the Summer
From fishing in Lake Tahoe to fly fishing in Donner Lake, summer in Lake Tahoe presents abundant opportunities to fish the fresh waters. From the Truckee River and beyond, you can find opportunities to fish. However, take caution. The water is cold and moves fast in some areas. Be safe, no matter what lake or river you decide to fish in.

Lake Tahoe is home to a diverse species of fish that would wet the appetite of the avid fisher. Here, not only will you find Rainbow Trout, but also Brown Trout, Kokanee Salmon, Mosquito Fish, Largemouth and Smallmouth Bass, Sockeye Salmon, Golden Shiner, Mountain Whitefish, Brown Bullhead and more.

However, please note that you can't just come to Lake Tahoe and fish. First, you have to be at least 16-years old. Plus, you need to have a valid sport fishing license for California or Nevada in order to be eligible to fish in Lake Tahoe. If you're looking to fish in any of the small finger lakes or streams that surround Lake Tahoe, you'll need a license for the state that its located in.
Biking in Lake Tahoe in the Summer
Biking the circumference of the lake and its 72 miles of idyllic landscape and scenery is quite possibly one of the most soul-quenching activities you can do in the summer in Lake Tahoe. But you can do more than just bike the lake's circumference. You can also mountain bike. In fact, Northstar Resort, in North Lake Tahoe, has a chairlift just for mountain biking.

The Northstar mountain biking park offers 125 miles of both scenic and grueling mountain biking. Situated at an elevation of 7,899 feet, you'll find 2 chairlifts in operation here. You can rent gear and bikes if you don't have your own. And, you'll encounter everything from easy fire roads to advanced downhills with epic drops and treacherous rock gardens.

Of course, there's more biking in Lake Tahoe in the summer. In the south, you'll discover a bike path. This paved trail goes through Camp Richardson. It also passes several popular beaches along the way. From Pope Beach to Baldwin Beach and Kiva Beach. It's a scenic tour that will leave you mesmerized.

There's also the Flume Trail. Elevations here vary between 7,000 feet and 8,100 feet. It heads over Lake Tahoe's east shore. With moderate difficulty, you'll be met with more sweeping views on this mountain biking trail. There's also the Tahoe Rim Trail. It offers approximately 165 miles of epic (sometimes advanced) trails, with parts of it being off limits near Desolation, the Mount Rose Wilderness Area, and Granite Chief.
Beaches in Lake Tahoe in the Summer
Lake Tahoe boasts epic golden-sanded beaches and secluded coves that lend way to the resplendent fresh waters of the lake. There are numerous beaches you can enjoy in the spring and summer. However, come early. Especially during peak months. The beaches fill up fast with tourists who flock to Lake Tahoe for its summer fun.

Check out our Lake Tahoe Beaches guide here.
Lake Tahoe in April
Lake Tahoe in April is a haven for travelers looking to avoid the crowds. It's a time when resorts are still open for skiing. The days are longer and the nights shorter. From the beginning of April through to the end of the month, the length of the day increases dramatically. In fact, it goes up by 1 hour and 9 minutes, which equates to roughly 2 minutes and 23 seconds per day more of daylight per day.

A time when you accommodation rates are low and the options for things to do are abundant. The spring brings warmer weather in April. But not by much. Expect the temperatures to hover around freezing at 32 °F (0 °C) and the low rarely dipping below 18 °F (-7.77 °C) and the high rarely exceeding 39 °F (3.88 °C).

While the temperature is still too cold to dip in the lake, on a warm sunny day, head over to the golden sands of one of Lake Tahoe's fabled beaches. Hit the shores of Sand Harbor towards the north shore or head down south towards Emerald Bay Beach where you can catch glimpses of Fannette Island and tour the Vikingsholm Castle.
Lake Tahoe in May
Lake Tahoe in May signals the very late spring and very beginnings of an early summer. But, be prepared for varying temperatures. While some years might be seasonally warm during May in Tahoe, with potentially 70 °F (21.1 °C) weather other years might still see snowfall during the same month.

Although you won't score the same deals you would in April, most Lake Tahoe cabins and condos are still at a considerable discount to what you'll pay come high season in July and August through to September. You can likely still find some deals. Especially if you book last minute. Considering it's not a very busy season, there's good likelihood you can score something good at a great price.

You can find all sorts of things to do in Lake Tahoe in May. From hiking the various trails to hanging out on the golden sands of one of its blissful beaches, Lake Tahoe is a haven in May. Crisp temperatures that aren't too cold, and definitely not too hot, will have you outdoors exploring the epic beauty of this incredible destination.
Lake Tahoe in June
June in Lake Tahoe beckons the high season. It's a time when visitors flock to the golden sands and Alpine forests of this stunning destination. In June, expect to pay more for just about everything. And, expect to deal with crowds. If you're looking to hit the beaches in Lake Tahoe, definitely plan on arriving early.

In June, the weather in Lake Tahoe will typically range from anywhere as low as 34 °F (1.11 °C) to 77 °F (25 °C). The weather is never too hot. And the lake is still cool. While you can definitely enjoy the lake, the waters will be colder, even in June. However, this does present some of the best weather for enjoying hikes in and around the Lake Tahoe area.
Lake Tahoe in July
Lake Tahoe in July is peak high season. Expect to pay more. A lot more. For everything. And, expect crowds. July and August are by far the busiest summer months in Lake Tahoe. Everything is crowded. For July, it's definitely recommended that you book your Tahoe cabin or condo early. As early as possible. Especially if you want to snag your first choice of where to stay.

The beaches in Lake Tahoe are teeming with tourists in July. With temperatures in the range of 40 °F (5.55 °C) to 82 °F (27.7 °C). In July, you'll also find the 4th of July Parade in Downtown Truckee along with the Lake Tahoe Shakespeare Festival. July is also a great month for just about anything outdoorsy. Golf, jet ski, go hiking, or whatever else floats your boat. This is the month to do all of that.
Lake Tahoe in August
August in Lake Tahoe is also teeming with visitors. The shores and beaches are packed. So are the hiking trails and accommodations. Getting a golf tee time is more challenging in August as well. For those that are into mountain biking, the Truckee Mountain Bike Park is also packed full of people. The weather is warm and people are enjoying the awe-inspiring beauty of Lake Tahoe in its full glory in August.

During the month of August, you can expect temperatures that range anywhere from 38 °F (3.33 °C) to 87 °F (30.55 °C). You'll have your pick of things to do in Lake Tahoe August. Everything outdoors related is entirely up for grabs. Plus, you'll get to be in the outdoors, in a breathtaking destination that includes towering Alpine forests that spiral into the heavens and glacier-carved granite cliffs that will leave you speechless.
Lake Tahoe in September
September in Lake Tahoe is still packed. You might not have the fierce crowds of the peak months in July and August, but you'll still be competing for real estate on the golden sands and rocky shores of most beaches in Lake Tahoe. September is a serene month. The air cools a bit. But not by much. You still have access to everything outdoor related in a cooler temperature.

In September, you can expect temperatures to range from 38 °F (3.33 °C) to 78 °F (30.55 °C) in Lake Tahoe. Accommodation prices drop a bit. But not by much. You'll still expect to pay those higher summer rates for any cabins or condos you rent in either North Lake Tahoe or South Lake Tahoe.
Lake Tahoe in October
October really is the tail end of summer in Lake Tahoe. If you can even call it that. However, it's a time when the crowds have relatively died down. Don't expect to pay as much for accommodation in Lake Tahoe. Those pricey cabins and condos aren't quite filled during this time of the year, so you'll have your pick.

This really is a transition month. Although crowds are still here, it's nothing compared to the peak summer months that descend on Lake Tahoe in say July and August. Prices are lower, along with wait times for just about anything. Whether you're dining or heading to the beaches for the view, it's a great time to spend at the end of summer in Lake Tahoe if you're looking to avoid the crowds.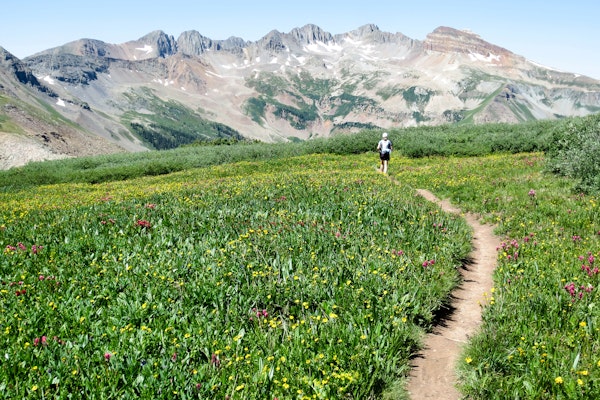 The Ultimate Guide to Telluride, Colorado Hiking
The 10 best hikes in Telluride for beginners, intermediates, and experts.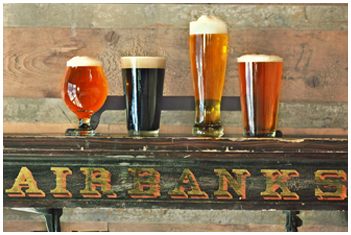 The Best Breweries Near Breckenridge
Here's a list of 10 of the best breweries in Breckenridge, and our recommendations for how to drink them all in on your next Breck vacation.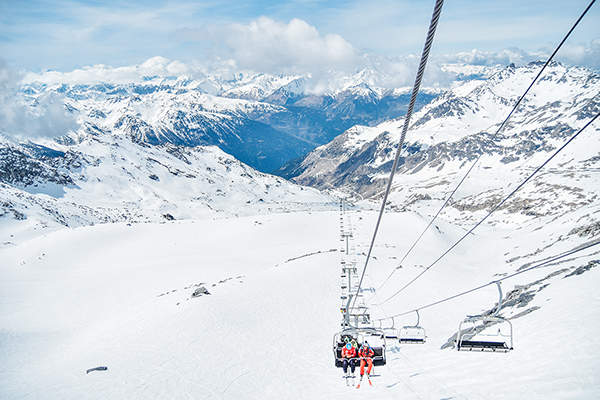 The Best Spring Skiing in Colorado
Find out everything you need to know about skiing in Colorado in March and April,from events and closing dates to average snowfall and daily temperatures.
Loading...