Discover the Best that Lake Tahoe Has to Offer
"To breathe the same air as angels, you must go to Tahoe." -- Mark Twain

I sat with angst as I awaited to deplane. I had just landed at Reno International Airport. Next stop? Lake Tahoe. A place I hadn't visited since I was 3 years old. "Do you remember it at all?" my mother asked at some point before the trip. "Kind of," I replied. But in all sincerity, the memories were hazy. Like the fog that drifts into a valley, idly obscuring and clouding your vision, I couldn't really recall it.

I remembered snow. Yes. That was it. Blankets and blankets of snow. Sheets stretching as far as the eye could see. I remembered the sounds of laughter. Carving snow angels. Building snowmen. People skiing. Falling and collapsing. Shaking off the fresh powder. Getting back up. But my hazy memories of fun in the snow were just one part of the Lake Tahoe experience. Yes. I visited North Lake Tahoe's peaks. But that was some 30 odd years before.

So I thought about it for a moment. I reflected on the enormity of the task ahead. I knew I had my work cut out for me. I knew I had to describe a destination that was home to approximately 30,000 year-round residents. But also a destination that attracts roughly 3 million people per year. How was I going to take it all in? In 3 days, no less. That, I wasn't sure of. I just knew that in order to create a luxury travel guide about Lake Tahoe, I just had to go there.
The funny thing? I had read and consumed a wealth of blog posts about the Tahoe experience. I had watched dozens of videos on YouTube attempting to educate people about traveling here. From things you should see to what you should do. But still, it didn't provide me with a sense of the true iconic beauty that awaited me. The truth? You can't simply call Lake Tahoe beautiful. Especially without ever seeing it in person.

Sure, it's a beautiful place. But it's also so much more than that. It's an earthly haven. An iconic lake that straddles both California and Nevada. A travel destination like none other. I'd go so far as describing it as Utopian. Yes. Utopian is the right word. Because, when you're here, you feel it. It's like you've just arrived at a place so breathtaking, the words evade you.

As if the scent of pine and crisp mountain air is so intoxicating, that it leaves you bewildered. How can I describe Lake Tahoe to you? How can I possibly get across this surreal experience of being here? Sure, I can try. That is, by chance, why you're reading this travel guide. You want to know what's in store for you in Tahoe. Right? Fair enough. All you need to do is imagine what heaven on earth would be like. And there you have it.

No. I'm dead serious. Heaven on earth quite possibly comes just about as close as it gets to an accurate depiction of Lake Tahoe. It's awe-inspiring. Truly. It's the type of beauty that takes your breath away. Snow-capped mountains in the distance. Shimmering lake waters that spill out for miles in every direction. The untouched beauty of Mother Nature. Pine and Fir trees that wind and twist their way into the heavens.

From the golden-sanded shores of Sand Harbor to the snow-covered peaks of Northstar and others, Tahoe has it all. From luxurious lakefront cabins on its south shore, to the epic cabins that dot the hillsides of the North. From the exhilarating thrill of casinos on the Nevada state line to the picturesque beauty of small villages that dot the lake's circumference, it's all here. And it's waiting for you. Right now.

But knowing I had to create a luxury travel guide for Tahoe definitely put the pressure on. As I walked off that plane, I wondered how I was going to soak it all in. With a 72-mile circumference, and loads of beaches and peaks, how was I going to see enough of Lake Tahoe to truly be able to create a comprehensive guide? That's all I could think about as I walked off that plane. It was game time.
The North Shore of Lake Tahoe wasn't my first stop. It was Truckee. It seeps small-town charm. A place where smiles and hello's and how-are-you's were genuinely asked. You can't beat these places. You just can't. Especially when you're so used to big-city life. But this place is genuine. Downtown Historic Truckee, they call it. A small strip of quaint shops line a main drag here.

This town has been reborn. From a once-upon-a-time logging village to an upscale ski destination, things have definitely changed for Historic Truckee. And walking the great stroll amidst the shops and bakeries and ice cream parlors that line its main street in Downtown Historic Truckee, you certainly feel it. With roughly 16,000 inhabitants, this cozy spot is just an earshot from the lake.

In the distance, mountains lined with Fir and Pine trees blanket the horizon. In 1900, the Southern Pacific Railroad built a wood depot here that served as a transit hub. Trains would go in and out, arriving empty and departing full of Cedars and Redwoods and Pines. In the distance, you can still hear the trains roar by. Today, it's an Amtrak train that chugs along.

In the mornings, the train bound for the west arrives from Chicago and Denver. It's heading towards Sacramento. The eastbound train arrives in the mid-afternoon, heading for Eastern seaboard. The trains are iconic. They're part of American history. And they're what make this quaint town so special.

But as I strolled that main drag, I wasn't thinking about trains. I wasn't thinking about shopping either. What was on my mind? Food. All I could think about was food. I was famished to say the least. So hungry that I had to dip into a pizzeria before my group arrived. I wasn't expecting anything amazing.

The place I chose? Best Pies. A pizzeria. Growing up in New York, I was used to go good pizzas. We call them "pies" in the East, so I knew what was in store for me. Flashbacks of heavenly gooey cheese-filled thin-crusts danced in my mind. The best part? I wasn't disappointed.

The service was impeccable. A friendly smile. Great food. Good conversation. Not at all bad for a quick decision. I didn't even have to check Yelp or TripAdvisor. I just ducked in. From there, it was off to Marty's Cafe to meet my group. Another great place to eat. In fact, Truckee is filled with these little spots. Where they take food seriously. Like mama's home cooking.

When you're heading to Tahoe, stop off in Truckee. Take the time to stroll around this town. Look around. Patronize the shops. Eat in the restaurants. This is small town living. If you're from a big city, it'll come as a shock to the system. But a pleasant one. You'll be over-the-moon happy that you visited this quaint little spot.

The best part? There are plenty of things to do nearby. In fact, if you're heading to Tahoe in the winter, this small town is ideally located between a variety of peaks and museums and even river rafting. From Donner Memorial State Park to the Northstar California resort, and plenty in between, you'll find so many things to do here near Truckee.
Donner Memorial State Park
Just east of where the I-80 and Highway-89 meet, just a hop, skip and a jump from Historic Downtown Truckee, is Donner Memorial State Park. Although I didn't get a chance to personally check it out, the site offers three miles of lake frontage at Donner Lake along with easy access to Donner Creek.

If you're into fishing, camping or hiking, this is the place to be. In the summer, it's a mecca for outdoor activities. Hills of granite and towering Pine trees cluster in groups amidst the mountainous landscape. Wildlife roams free. Birds call from above. Squirrels scurry across in search of food. And the scant Black Bear or Coyote is known to roam these parts. So be wary.

In the winter, you can cross-country ski or snowshoe across trails that lead you around beautiful ridges that rise violently from the earth's crust. You can visit the park year-round. But, keep in mind, to fish, you'll need a license and to camp, you'll need to make a reservation on the ReserveCalifornia.com website or call 1-800-444-7275 for more details.

In the park, you'll discover a pioneer statue. It was fashioned in respect to the emigrants who made their voyage through the Sierra Nevada
Northstar California
Set amidst one of the most serene environments on earth, Northstar California is one of the most epic ski destinations on earth. It boasts 19 separate ski lifts. An 18-hole golf course. A cross-country ski center. And a stunning central village along with high-end accommodations. Whether you're heading to North Lake Tahoe in the winter, or the summer, it's an idyllic, serene spot.

In fact, Northstar was my ultimate destination in Lake Tahoe. It's where we stayed in a luxurious townhome. Stella Nova Northstar, to be precise. Situated directly on the slopes, the property was a true ski-in and ski-out. If you're looking for a North Lake Tahoe cabin, I would highly suggest that one.

Northstar is a high-end resort destination located just 200 miles (322 kilometers) from the San Francisco Bay Area. It's owned by EPR Properties. Purchased in 2016 from CNL Lifestyle Properties for $456 million. It's an epic destination.

The amenities here are outstanding. They call the common house "The Tree House" and it's a place where you can relax, unwind and even have your own expert concierge they call "Outfitters."

Outfitters know the ins-and-outs of Lake Tahoe. They'll tell you where to hike. Where to bike. Where to ski. Where to paddleboard. And, generally, where to do just about anything in the area. To top it off, The Tree House is filled with its own amenities.

Downstairs, a personal fitness center. Outside, a heated swimming pool. You'll also discover a hot tub. Steam room. Pool table. Tabletop shuffleboard. Leather couches. High-end flat-screen televisions. Sonos-powered sound systems. Fridges filled with wines and beers and bottled waters. Snacks such as protein bars. An espresso machine. And so much more.
Historic Downtown Truckee
Historic Downtown Truckee is a must-see in North Lake Tahoe. It's filled with quaint shops and bakeries and restaurants. They reside in historic brick buildings that are steeped in the town's rich past. With just 16,000 inhabitants, it's certainly got that small town charm. Once a logging village, it's now been transformed into a high-end ski destination.

Originally named, Coburn Station, it was renamed to Truckee in honor of a Paiute Chief, Trukizo. It was his tribe that the first European settlers encountered when they came across the perilous Sierra Nevada mountain range.

If you're a fan of Charlie Chaplin, his comedy, The Gold Rush, which premiered in 1925, was shot in Truckee during its first two weeks of production. It was also the setting for the true book, Citizen Jane, which debuted in 1999. It's also the town featured in the video game, American Truck Simulator.

The town is filled with historic sites that you just can't miss. The Truckee Hotel, which was built way back in 1873, was originally named the American House. The name was later changed to the Whitney House until 1976 when it was renamed the Truckee Hotel. In 1992, it received an extensive renovation that restored the entire building, its exterior and interior space.

In Downtown Historic Truckee, you can still visit the Old Jail. It was originally built in 1875 and it was used to house inmates for over 90 years until 1964. Today, visitors can tour through the Old Jail Museum. Open to the public, it's one of very few surviving 19th Century jails that are still standing today.
Boreal Mountain Resort
Situated just west of Truckee, off Highway 80, in Soda Springs, Boreal Mountain Resort is a Lake Tahoe fixture, and typically one of the first resorts to open in the year for skiing and snowboarding.

The resort has nine chair lifts, and compared to some of the other mountain resorts, it's relatively tiny.

The base of Boreal Mountain Resort is located at 7,200 feet (2,194 meters). It has a summit that reaches 10,067 feet (3,068 meters), one of the tallest peaks in Lake Tahoe. The longest run you'll find here is approximately 1 mile (about 1.6 km) and the biggest vertical drop on the mountain is around 500 feet (152 meters).

The resort also has an epic Terrain Park. It's perfect for snowboarders. You'll find boxes and handrails and super-half-pipes here. There's also a family snow play area, for those who are a little less experienced.
Whitewater Rafting
Whitewater rafting on the Truckee River is usually done at one of the most common spots on the river called the River Ranch Run. This stars from around where Lake Tahoe outlets into the Truckee River and it extends all the way down for about 3 miles (4.8 km) to River Ranch Restaurant.

This run is all class 1 and class 2. Class 1 rafting includes small rough areas and will require some maneuvering with a very basic skill level required. Class 2 rafting includes some rough waters along with rocks and it will usually require some basic paddling skills. Overall, this run is primarily for beginners.
Tahoe Donner Downhill Ski
The Tahoe Donner Downhill Ski Resort is part of the Tahoe Donner community. Over 7,200 pristine acres of blissful mountainside along with approximately 6,500 properties. It's situated approximately 25 minutes from Lake Tahoe, in Truckee. Tahoe Donner Downhill Ski Resort has been around for 50 years.

The resort offers one quad-chair lift, 1 double-chair lift, and 3 conveyor lifts. The terrain is made up of approximately 40% novice slopes and 60% intermediate. You'll find 17 total runs here, 3 terrain parks and around 120 skiable acres.

To learn more about all of Lake Tahoe's ski resorts, click here.
Truckee Railroad Museum
Truckee is a town steeped in history. As an old logging and railroad locale, it's fitting to have a museum dedicated to the history of the area's railroads. In fact, the entrance to the museum is an old caboose from Southern Pacific Railroad. It was used in the area. And the color scheme matches the old paint scheme for Southern Pacific.

Railroads have played a major role in Truckee's development. In fact, the first transcontinental railroad, which connected the east to the west, completing the link across America, had an important train yard in Truckee. That railroad was completed on May 10th, 1869. But it was a feat of sheer brute force and will.

It took two years for workers to bore a hole through the Donner Summit. That tunnel is 1,659 feet long (505 meters). While it was being completed, workers were still laying track and hauling materials to complete the Truckee River Canyon route. Railroads played such a huge role in Truckee's history that it only makes sense that an entire museum was dedicated to it.

This is the ideal stop to take your children. Or, if you're simply interested in railroads or in the rich history of Truckee and trains through the Sierra Nevada, this is a must-see during your stop in the Lake Tahoe area. The museum is located at 10075 Donner Pass Road in Truckee. You can visit their website for more details here.
Old Truckee Jail Museum
The Old Jail is Downtown Historic Truckee's original jail that was built in 1875. It's still standing. It was used to house inmates through 1964. And originally built in 1875. For 90 years it served to house inmates. Today, you can tour through the Old Jail Museum since it's open to the general public. To this day, it's one of the only few surviving 19th Century jails in existence in the United States.
Soda Springs Mountain Ski Resort
Soda Springs is an area in Truckee situated 3 miles (4.8 km) west of Donner Pass. The Soda Springs Mountain Ski Resort is the longest-running ski resort in the state of California. This is one of the best places to explore the epic winters of Lake Tahoe. Granite cliffs and Pine-tree covered mountainsides make this a picturesque and scenic destination in Tahoe for all things winter-sport related.

The base at Soda Springs is situated at 6,700 feet (2,042 meters), while its summit is at 7,352 feet (2,240 meters). The longest ski run you'll find here is just 0.4 miles (0.64km) and the biggest vertical drop is 652 feet (198 meters). That pales in comparison to some of the other ski resorts in Lake Tahoe. But if you're not an intermediate or advanced skier, Soda Springs Mountain Ski Resort is a great place to start your education.

Check out our full Lake Tahoe Ski Guide and Resorts for more information.
Golfing at Old Greenwood Golf Course
In the spring and summer months, Lake Tahoe is a haven for golf. Near Truckee, you'll find several courses. Golfing at Old Greenwood Golf Course is one of those courses. The course is nestled in Old Greenwood, an upscale resort community. Here, you'll discover sprawling custom-built cabins and homes nestled deep within 600 acres of pristine towering-Pine-and-Fir covered landscape.

Old Greenwood is a Jack Nicklaus Signature Golf Course. Designed with the meticulous detail of a master golfer, no expense was spared in creating Old Greenwood. But the grand design was more about sculpting the course and blending it with Mother Nature. Not about grandeur. Here, you'll also discover the Tahoe Mountain Club.

At Old Greenwood, you'll actually discover two distinct golf courses. Old Greenwood Golf Course is one of them. Gray's Crossing Golf Course is the other. Both are 18 holes of sheer perfection. However, while Old Greenwood was designed by Jack Nicklaus, Gray's Crossing was the brainchild of Peter Jacobsen.
Luxury Accommodations in Lake Tahoe
The Best Cabins in Lake Tahoe
I don't know about you, but I'm a fan of opulent luxury. I'm talking about crystal chandeliers and distressed hardwoods and marble finishes. I'm talking about accommodations that take your breath away. Not just homes. Mansions. Glorified cabins you can rent year round no matter what the occasion. The best part? Lake Tahoe is littered with luxury cabins and resorts that you can call home.

My trip to Tahoe was purposeful. I wanted to see what living large in Tahoe really meant. I was looking for mountain luxury. Cabins that were able to masterfully blend mountain living with refined elegance. Truthfully? There's no such thing as "too luxurious" in my mind. Now, I'm not talking about the Ritz Carlton, which you can definitely find in Lake Tahoe.

To me, the ideal luxury cabin in Lake Tahoe should be held to a certain standard. And, surprisingly, I had my fill of touring some of the most luxurious homes that Tahoe has to offer. And to put it briefly. I was awe-inspired by some of the homes. There's a truly refined taste and luxurious standard of living here. It doesn't exist everywhere. But for those who enjoy the good life, you can certainly find it here.
North Lake vs South Lake
Before going any further, there's one distinction we need to make. There's quite a difference between North Lake Tahoe and South Lake Tahoe. It's a different vibe. Different energy. You can feel it. Now, depending on your speed, you might prefer one over the other. For me? It's the north all the way. I just can't describe it. But being in North Lake Tahoe was spectacular.

It wasn't just the cabins in the north. It was everything. Yes, it's closer to the airport than the south. But it's so much more than that. Now, it's also important to note that the North has way more peaks than the south does. However, some of the peaks you'll find in the south are truly outrageous. For example, Heavenly Mountain Resort boasts the longest ski run (5.5 miles) and biggest vertical drop (3502 feet). That's pretty spectacular if you're into outrageously daring snowsports.

However, all else being equal, I'd choose the North any day of the year over the south. But that doesn't mean you won't love the south. For example, we toured the Sierra Shores Lakefront Townhomes in South Lake Tahoe and they were awe-inspiring. Directly on the lakefront, it's a site to marvel at. And the interiors of the townhomes were nothing short of luxurious.

Overall, you'll want to choose the south if you're heading in during the summer months. South Lake Tahoe also seems to be where the party's at. But if you're looking for real opulence, it's the north all the way. I'd also much prefer the north in the winter months. You have 10 peaks to choose from in the north as opposed to 4 in the south. But, keep in mind that the north is also going to run you a pretty penny.

Both the cabins in North Lake Tahoe and the South Lake Tahoe rentals are pricey. Don't get me wrong. But the north outstrips the south. There's far more opulence here. Elegance. Extravagance. Cabins where wind and glass and stone unite in an explosive array of fine mountain living. Marbles and granites and cedars and pines all reflect the outdoor elements of the outdoor environment.

So which one do you choose? The north or the south? It's simply a matter of taste. I polled people on this very question on a Facebook page called I Love Lake Tahoe and the replies varied. But, the north won out over the south by about 3 to 2. Now, that's not a huge difference. Again, it's a personal preference. Some simply love the south for the summers and others adore the north for the winters. Where you stay depends entirely on you.
North Lake Tahoe Cabins
With 10 peaks to choose from in the north, there's plenty to do here. That's especially true in the winter. But where you're looking to stay for a few days or even a few weeks at a time, there are plenty of incredible cabins in North Lake Tahoe to choose from. InvitedHome features a portfolio of hand-picked homes in North Lake that represent the best of the best.

Whether you're into the truly elegant and opulent, or you're in the mood for rustic luxury, you'll discover it here in North Lake. This is a truly serene and picturesque setting. A place where vistas and views abound. Where snow-capped mountains tower in the distance. Where the lake shimmers and sparkles in full glory from your perch high up in the hills.

North Lake is truly inspiring. Not just from a sense of elegance. But also the serenity of this area. You can feel it. You can breathe it in the air. It's infectious. The people and scenery and the awe-inspiring views from the many vantage points on the hillsides. This is where magical memories are made.
South Lake Tahoe Cabins
If you're heading to Lake Tahoe for some good old-fashioned summer fun, then South Lake Tahoe is the place to be. It's one of the most sought-after summer destinations in the United States, and there's prime access to a large swath of the lake from here.

South Lake Tahoe is where you'll discover casinos and luxurious lakefront townhomes. It's where you'll find Stateline and nightlife. Bars and pub crawls and discos. Much less reserved than its northern counterpart, South Lake Tahoe is the place to be if you're looking to let go and just have an uninhibited great time.

When it comes to accommodation, there's no shortage of vacation rentals in South Lake. In fact, you'll find the area teeming with cabins. From lakefront communities like Sierra Shores to more upscale standalone cabins, you can find a wide range here in South Lake of short-term rentals to choose from.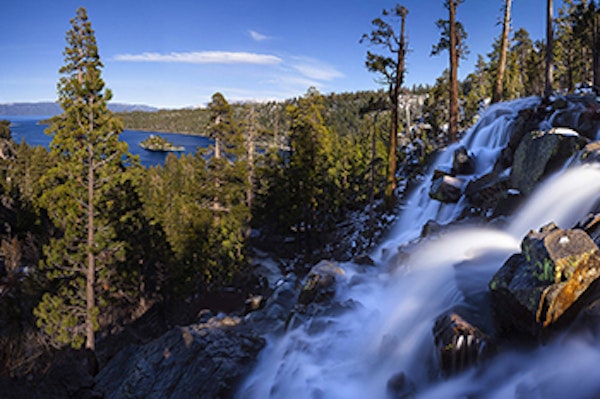 Lake Tahoe: How to Get Here
Whether you're flying or driving, we detail exactly
how to get to Lake Tahoe
from various points around the country, to make it easier for you to start planning your next Tahoe getaway.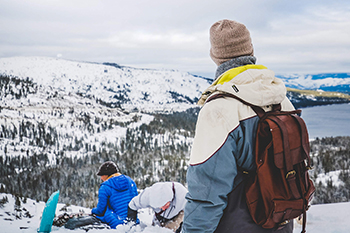 Lake Tahoe Hiking Trails Guide
No trip to Lake Tahoe is complete without taking a hike to one of the incredible vantage points at the top of the trails. Learn which
Lake Tahoe hiking trails
are best for your group here.
4th of July in Lake Tahoe
The 4th of July is a special time in Lake Tahoe, but it can be hectic.
Use our guide here
to put a perfect plan in place to get the most out of your holiday weekend.
Lake Tahoe Travel Guide
Need even more information to plan your Lake Tahoe trip?
Our Vacation Consultants are standing by to help you decide where to stay, what to do, and provide any other information you're looking for to craft the perfect Lake Tahoe vacation.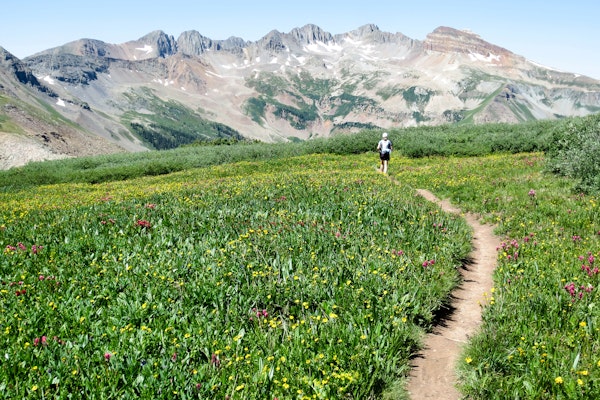 The Ultimate Guide to Telluride, Colorado Hiking
The 10 best hikes in Telluride for beginners, intermediates, and experts.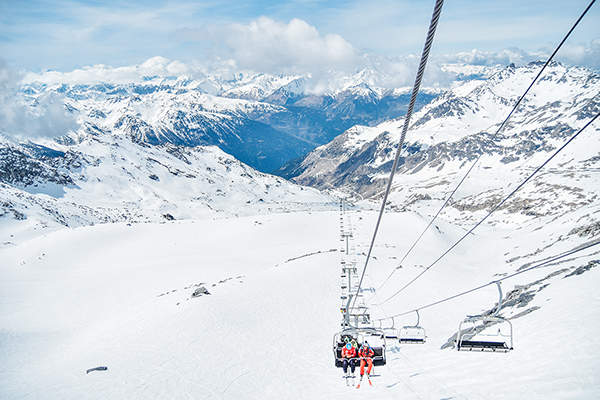 The Best Spring Skiing in Colorado
Find out everything you need to know about skiing in Colorado in March and April,from events and closing dates to average snowfall and daily temperatures.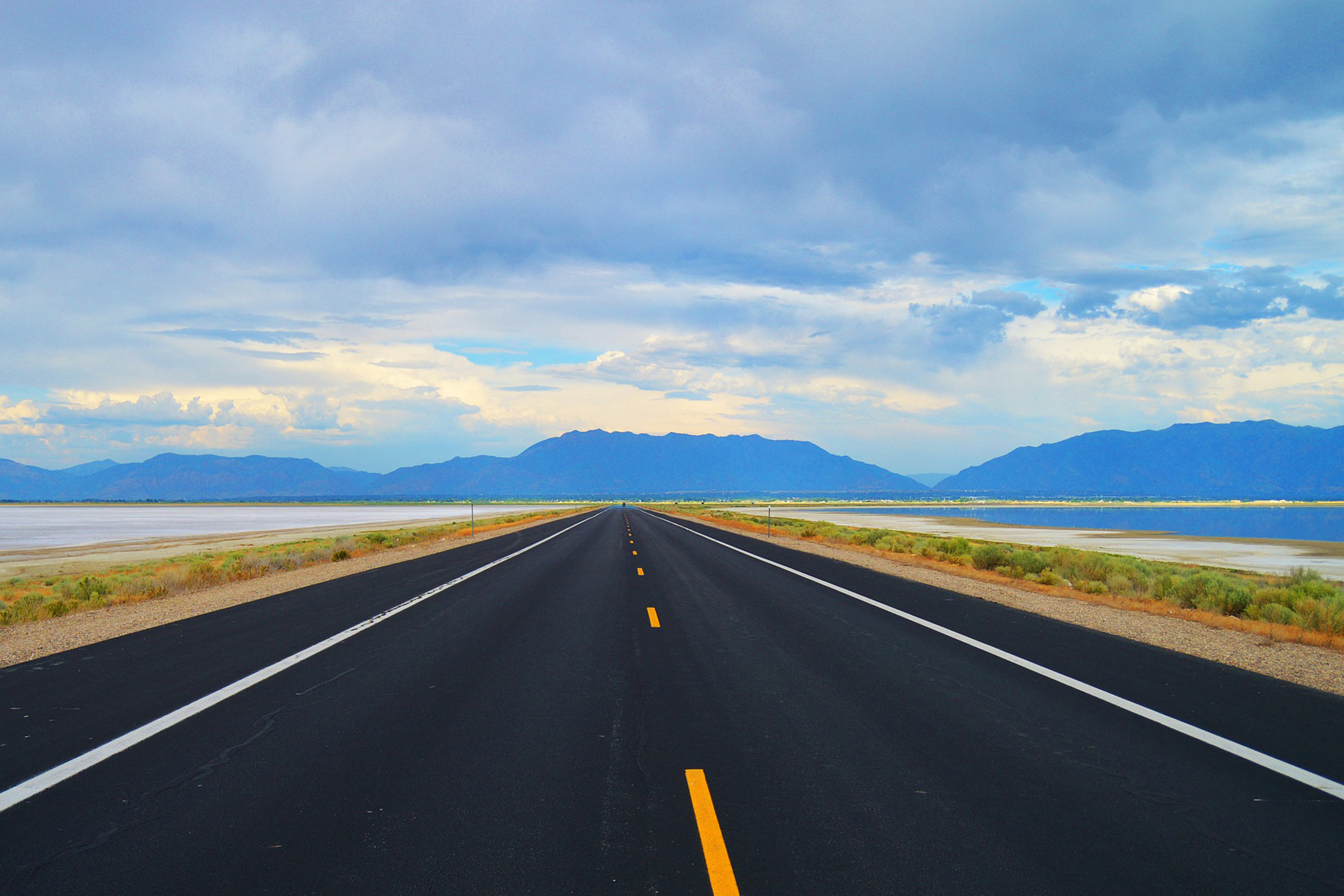 6 Best Day Trips from Park City
If you're looking for a way to get more out of your Park City vacation, check out these day trips that are between 30 minutes and two hours away.
Loading...