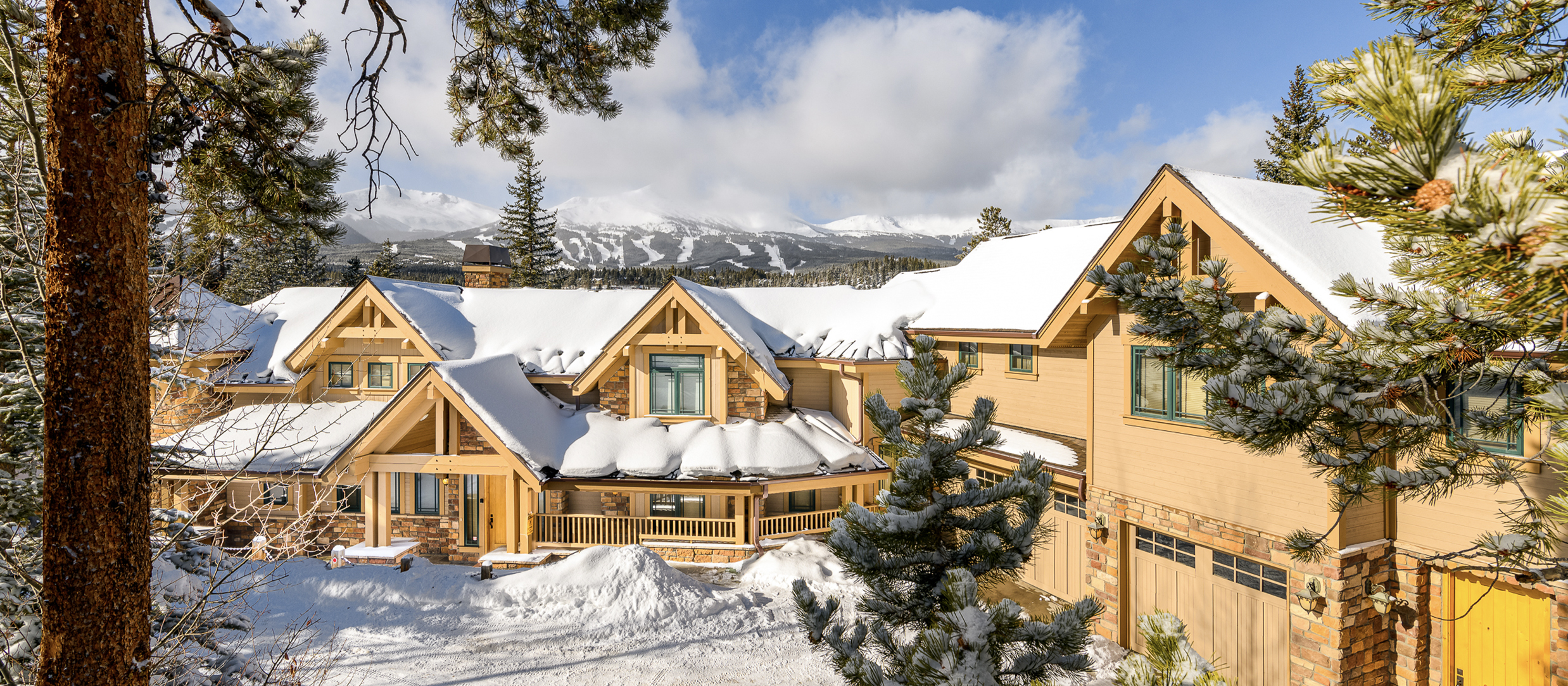 Vail vs Breckenridge
The difference between each resort
Vail or Breckenridge?
If you're heading to Colorado this winter, it's important to know the difference
Trying to decide between Vail or Breckenridge in the winter? The truth is, you're in for an incredibly memorable vacation no matter which you choose. Both locations have exceptionally beautiful homes for rent, and both locations are included on our list of 15 rental homes with awe-inspiring views. However, there are a few distinctions between both of these famous resorts that are important to look at, including cost, location, accommodation options, activities, and dining.

In this post, we'll provide a broad FAQ on the differences between Vail and Breck, as well as take a closer look at each stunning resort individually to help you choose which is right for your next summer family getaway.

Side note: When considering Vail, remember that Vail and Beaver Creek are in fact separate resorts. We receive many questions about this, so we created a post to help explain the difference between Vail and Beaver Creek here.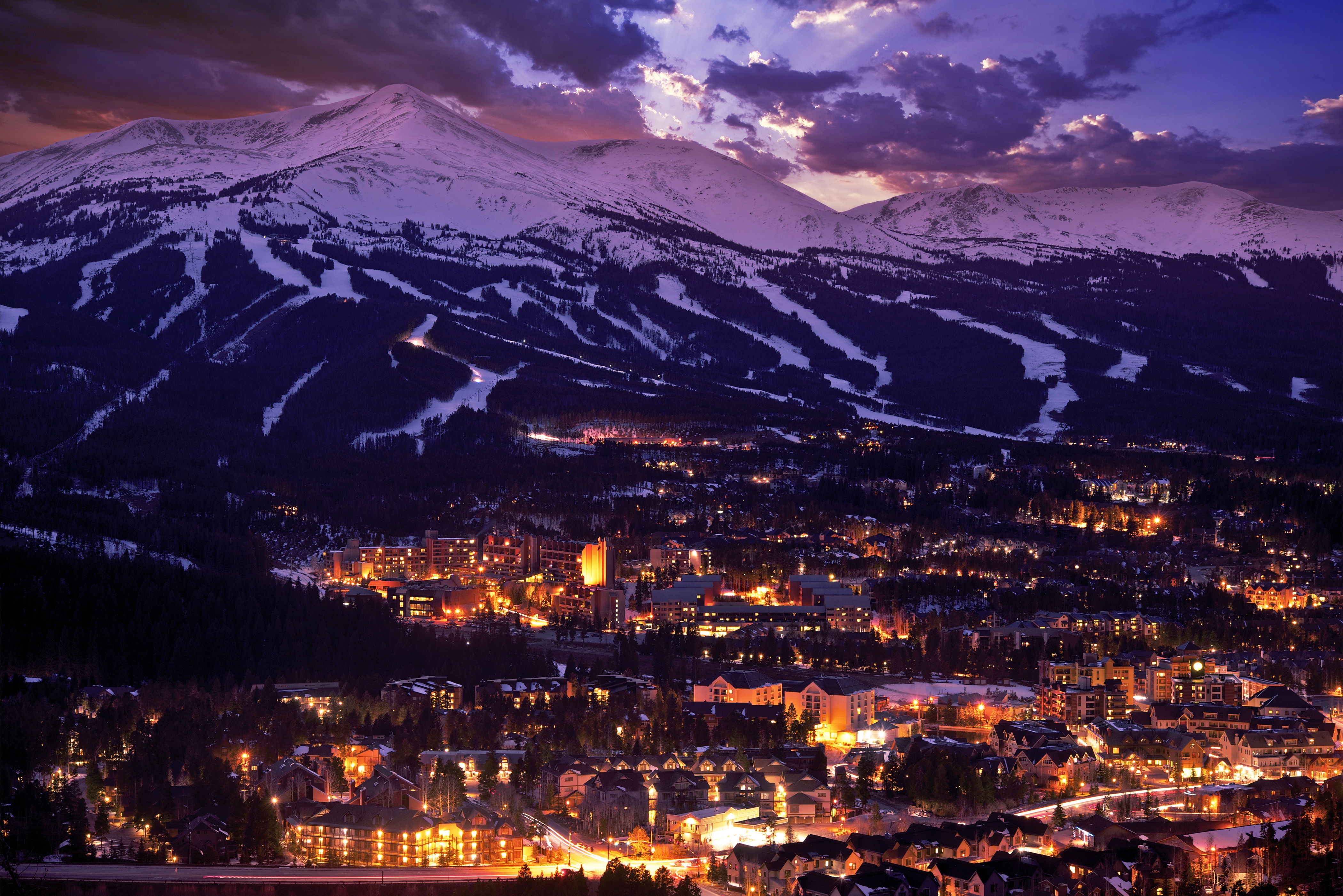 History of Breckenridge and Vail
In short, we can trace each ski village back to one of two things: The skiing boom and the mining boom.

People have been skiing in Vail Valley long before there ever was a town. In fact, Vail Resort was set up in 1962 -- a full four years before the town was incorporated. That means it's had more than a half-century to become what it is today: The third largest resort in the country behind Park City and Big Sky, with unparalleled services and amenities that help the resort consistently rank among the finest places to ski in all of North America, and make it homes to a few extremely luxurious rentals selected by the highly discerning Airbnb Luxe platform. Vail boasts 5,289 acres of skiable terrain and was given the honor of hosting the ski competitions for the 1976 Winter Olympics. That should tell you something about its prestige.
Breck, on the other hand, has its roots much deeper in the days of the Wild West, when prospectors were flocking West to strike gold. The town was founded in 1859 by just a few adventurers seeking fortunes in gold. By the 1880s, the town was in its mining heyday, and between this period and 1960, the town would see major swings in population and economic activity, at one point recording a population as low as 393 in 1960.

Then, in 1961, Peak 8 at the Breckenridge Ski Area opens, ushering in a new era for the once-great mining town. Fast forward to today, and the iconic western village with its Victorian old town has a population of nearly 5,000, and a ski resort with five amazing peaks.
Vail vs Breckenridge FAQs
Which is more expensive: Breckenridge or Vail?
Vail. According to data from BestPlaces.net, the average cost of living in Vail is about 32% higher than in Breckenridge. The driving force behind this is the high housing costs, which are about 50% higher in Vail. Most directly, this results in higher accommodation prices in Vail. In both locations, however, you'll find vacation rentals ranging from as low as $199 per night to as high as $20,000 per night. However, we should note that in Vail, many of our homes can be rented monthly or for the ski/summer season, often at a per-night discount. You can view our Vail long-term rentals here. As far as dining or buying groceries, the two resorts are about equal.

If you're planning a ski trip, Vail lift tickets are more expensive than Breckenridge lift tickets. All else equal, a one-day lift ticket purchased online is $188 at Breckenridge after taxes and fees, while it's $200 at Vail.

What are the cultural differences between Breck and Vail?
Vail's ski village is as charming as they come, and all the nightlife and high-end restaurants are located within it. It's modeled after the famous ski lodges of the Alps, so you'll have that traditional ski-lodge feel wherever you go. Breck, on the other hand, is located in a historic mining town, so you can stroll through Victorian-era streets of town, where there are tons of nightlife and restaurant options. Breck is also located about 15 minutes south of I-70, whereas the interstate runs directly through Vail. This makes Vail slightly more accessible, but also makes Breck a bit more tucked away into the mountains, giving it more of a relaxed ski-town vibe.

Which is better in the summer: Breck or Vail?
While both have their summer attractions, Breckenridge simply has much more to do come summer. The nearby towns of Dillon, Frisco, and Silverthorne have endless shopping, restaurants, lakeside bars, and outdoor activities. In Vail, you're slightly more limited by the narrow Vail Valley and Gore Creek, though there are still plenty of hikes, climbs, and mountain biking trails in this area. Breckenridge has its lively town that's buzzing almost year-round, while Vail's ski village tends to be somewhat quieter in the summer months. However, we should note that many of our guests thoroughly enjoy a season-long stay in the Beaver Creek area of Vail. The homes are quiet, tucked away, and excellent for spending a peaceful summer in the mountains.

Which resort is more crowded: Breckenridge or Vail?
Both resorts are on the Vail Resorts Epic Pass, of which nearly one million were sold in the 2018-2019 season. So, you'll likely find crowds at both, however as of the 2017-2018 season, Breckenridge supplanted Vail as the country's most-visited ski resort. The annual International Report on Snow and Mountain Tourism found that Breckenridge came in at #14 on the list of the world's most-visited resorts. And Vail? Right behind it at #15.

Considering Breck only has about 2,900 acres of skiable terrain and 34 lifts, compared to Vail's 5,289 acres of terrain and 31 lifts, we can safely say that Breck is now more crowded than Vail, especially on weekends.

Is Breckenridge or Vail better for beginners?
In this category, you can't go wrong with either. We will say that Breck tends to be the favorite among families due to its slightly lower cost and higher number of lodging options and locations, but as far as terrain goes, both offer excellent gently-sloped training runs. Ski schools and daycare facilities at both are also among the best in the country.
A Deeper Look: Vail vs Breckenridge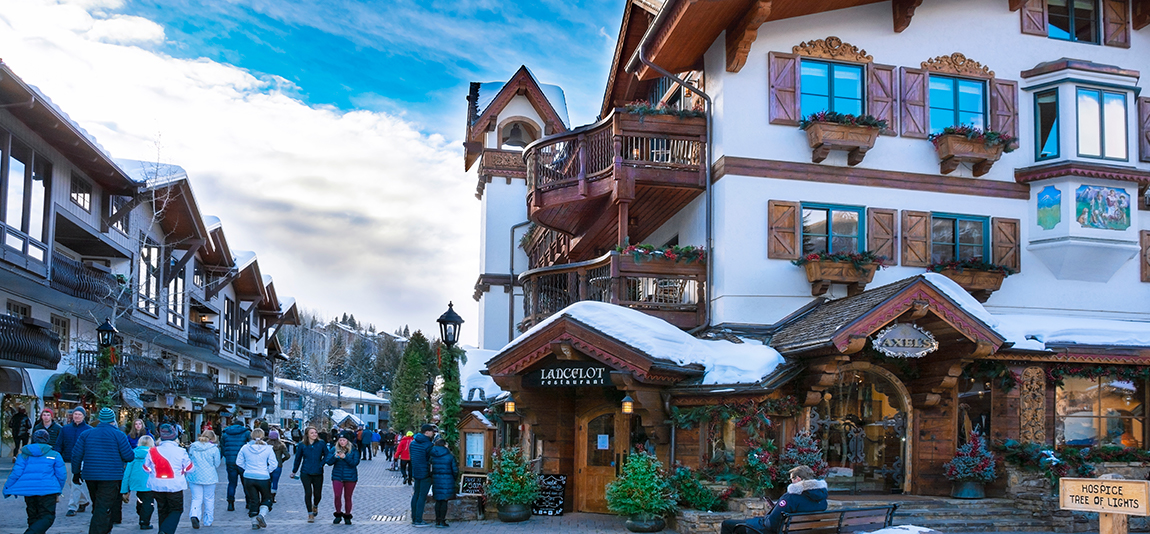 People come from all over the world to experience Vail's vast backcountry terrain, deep powder, wide open groomed runs, and a ski culture that's become the epitome of a "mountain luxury" experience. Its parent company, Vail Resorts, is also one of the biggest hospitality and tourism companies in the world, owning or forming partnerships with dozens of resorts on nearly every continent. For many ski enthusiasts, it's a must-visit at some point in their lives.

The classic ski villages, high-end restaurants, boutique shops, and famous annual events all add to its appeal, and for many, they choose Vail over Breckenridge for 1.) The endless backcountry terrain and 2.) the availability of higher-tier lodging options and luxury amenities.
Where to Stay in Vail
The most popular places to stay in Vail include East Vail, Vail Village, and Lionshead, and all have their own charms. East Vail is full of tranquil mountain lodges near the golf course and hiking trails. Still, even with this seclusion, you're only a 5-10 minute drive from Vail Village.

When you stay in Vail Village or Lionshead, you'll have the experience of stepping out your door and onto the streets lined with shops, cafes, and bars, and get unbeatable access to the Riva Bahn Express Chair Lift 6. These lodgings will be condos rather than stand-alone homes, however with your stay, you'll have access to all kinds of luxury amenities, like fitness rooms, concierge service, and other perks.

Some of Vail's most breathtaking vacation rentals are found just up the road on the side of the mountain with ski runs running right by. These are the areas where celebrities go to get away from the big city or spend the season enjoying all the town has to offer. If this is the experience you're looking for, check out some seasonal rentals on Forest Road, where you'll find luxury rentals like Ascension and Quantum.

The Best Place to Park in Vail
One thing to note about Vail Village: There's no street parking. If you're staying here (or the nearby Golden peak), you'll need to park in the parking garage at 241 E. Meadow Drive. If you're staying in Lionshead, park in the parking garage at 395 South Frontage Road West. If you don't want to pay for parking, you can do what many daytrippers do and park along the I-70 frontage road. Just be sure to move your car by 11pm. For more info on the parking situation in Vail, visit the official page here.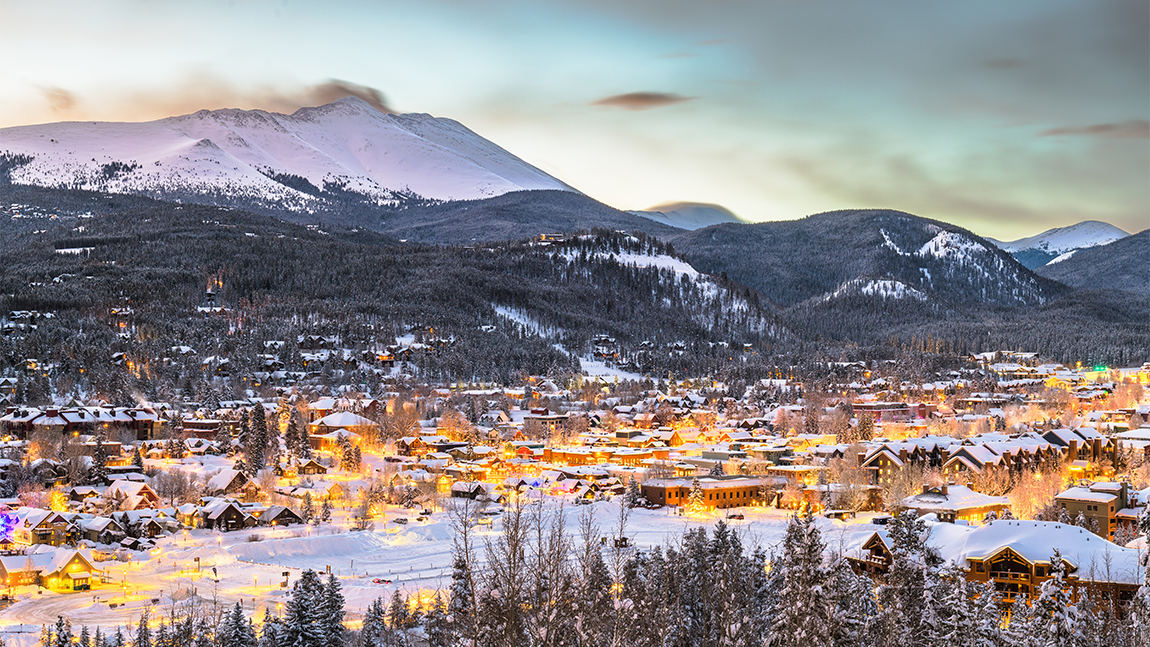 For many, Breckenridge is the picture-perfect ski town they dream of when they envision themselves in Colorado. Rolling hills in the foreground, soaring peaks in the background, and a valley full of pine trees, Victorian homes, and Old West charm. There's something for everyone in the family, whether it's action-adventure tours, brewery tours, or ski tours.

To get to Breckenridge, you'll exit I-70 in Frisco and head south through the breathtaking valley. After about 15 minutes, you'll end up in Breckenridge. From town, you can see the sprawling mountain resort ahead of you, and all around it, there are hotels and vacation rentals that can accommodate any size group, from couples to family reunions. Breckenridge's population is slightly lower than Vail's, and the town is more spread out. However, during high seasons, you'll still see plenty of crowds at some of the region's top attractions.
Where to Stay in Breckenridge
When you come to Breckenridge, you'll have a wide variety of places to stay. If you're downtown, you'll have easy access to all the local shops, restaurants, and bars, and you'll find plenty of activities to do that will fill your day. Many of our downtown vacation rentals are just enough outside of the busy area to be peaceful and quiet, but when you're ready to go into town, many are on a free shuttle route to take you into the action.

The Baldy Mountain neighborhood is due east of the resort, and is home to many lodge-style homes with incredible views of the ski slopes and mountains that surround it. Head over to Peak 10 -- located on the most southern side of the mountain-- and you'll find secluded cabins surrounded by trees that make for a great retreat for families. On Peak 7, you'll find some of Breckenridge's most desirable homes, from modern marvels worthy of magazine covers to luxury log cabins.
Should You Stay in Breckenridge or Vail?
We've listed a few of our rental homes in each destination to help you decide. And remember, when you're searching for rental homes, there are enormous benefits that come with booking directly with a property manager like InvitedHome or even the homeowners themselves.
Luxury Breckenridge Homes
Breckenridge
Aspenglow Chalet Above Downtown
Breckenridge
Ski Hill Sanctuary At Peak 8
Breckenridge
Seventh Heaven
Walk To Town
Ski-In/Ski-Out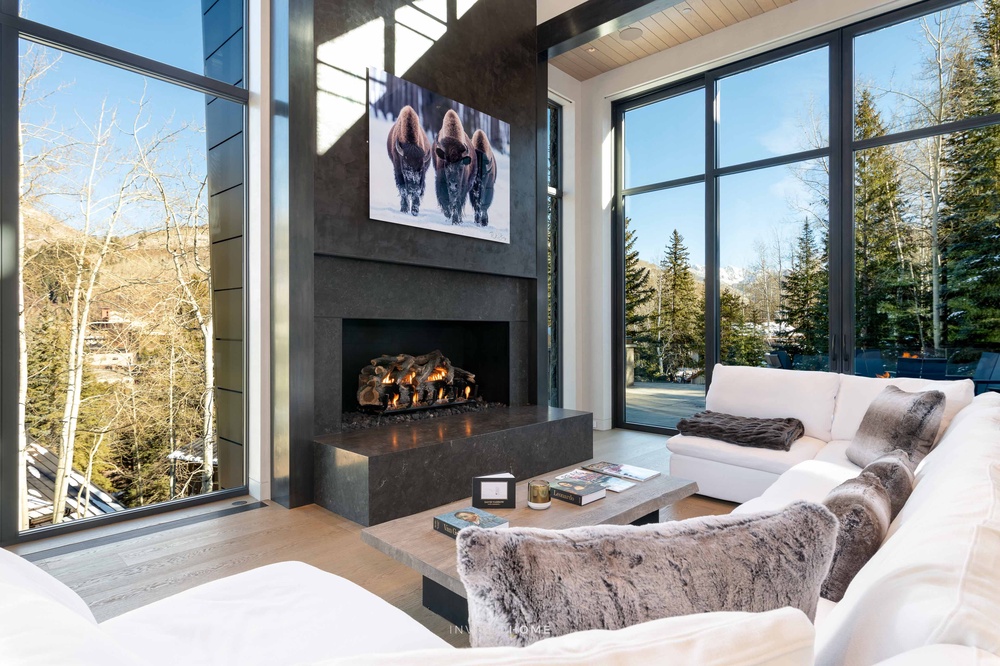 Where will you go?
Vail and Breckenridge each have their unique attractions, but it ultimately comes down to you. If you have further questions about which resort is best for your next getaway, get in touch with us at 720-537-1661. We'd love to help you find the perfect luxury vacation rental in either destination.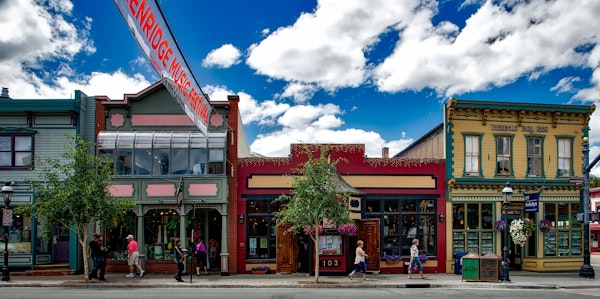 The Top 15 Family Activities in Breckenridge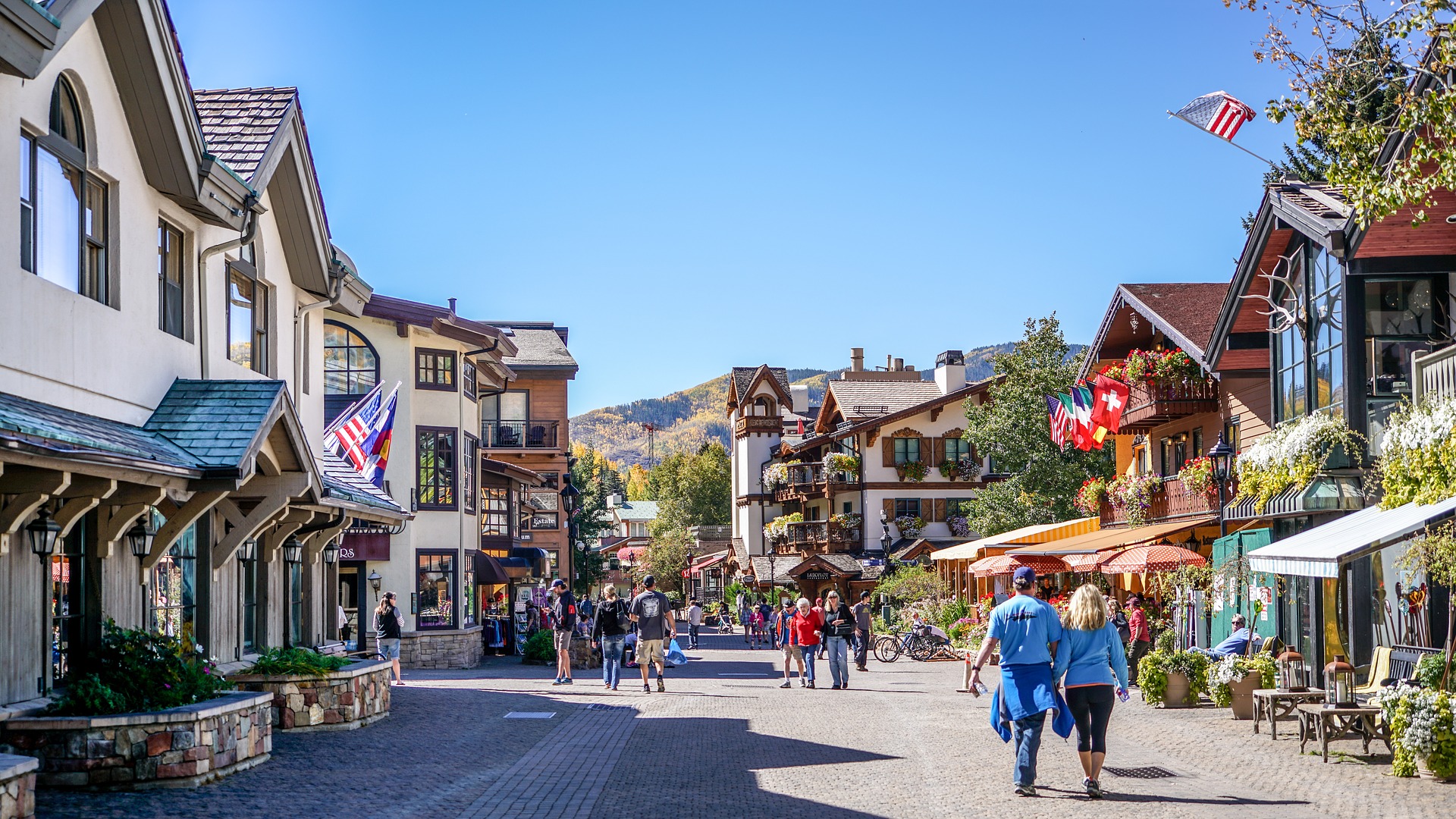 Vail Vs Beaver Creek
While these two luxurious resorts are only 15 minutes apart,
there are a few key differences
to note that may help you decide which location is best for your next family vacation.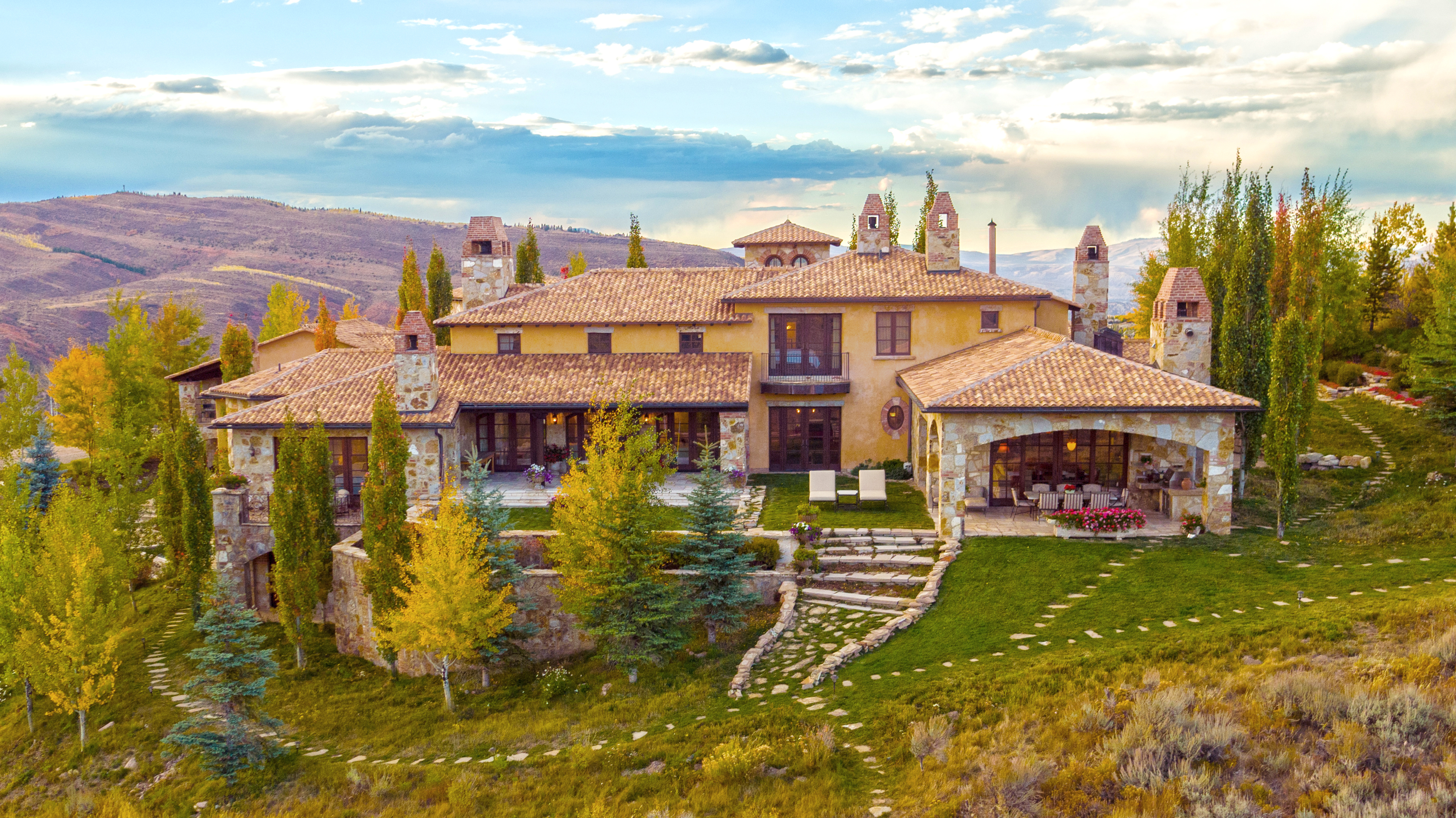 Vail Seasonal and Long-Term Rentals
Loading...